A Companion to World War II, 2 Volume Set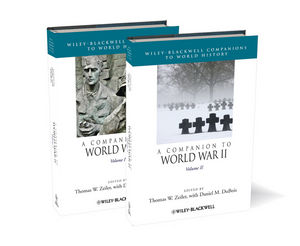 A Companion to World War II, 2 Volume Set
ISBN: 978-1-118-32505-6
Dec 2012, Wiley-Blackwell
1064 pages
Description
A Companion to World War II brings together a series of fresh academic perspectives on World War II, exploring the many cultural, social, and political contexts of the war. Essay topics range from American anti-Semitism to the experiences of French-African soldiers, providing nearly 60 new contributions to the genre arranged across two comprehensive volumes. 
A collection of original historiographic essays that include cutting-edge research
Analyzes the roles of neutral nations during the war
Examines the war from the bottom up through the experiences of different social classes
Covers the causes, key battles, and consequences of the war
Volume 1
Notes on Contributors x
Introduction 1
Part I Roots of War 11
1 How a Second World War Happened 13
Gerhard L. Weinberg
2 The Versailles Peace Settlement and the Collective Security System 29
Frédéric Dessberg
3 The Great Depression 47
John E. Moser
4 Colonialism in Asia 63
Christopher D. O'Sullivan
5 Visionaries of Expansion 77
R. J. B. Bosworth
6 Soviet Planning for War, 1928–June 1941 91
Alexander Hill
Part II Fighting the War 103
7 Japanese Early Attack 105
Brian P. Farrell
8 War and Empire: The Transformation of Southern Asia 124
Gary R. Hess
9 CBI: A Historiographical Review 141
Maochun Yu
10 The German Assault, 1939–1941 154
Robert M. Citino
11 Militaries Compared: Wehrmacht and Red Army, 1941–1945 169
Mark Edele
12 The Bombers: The Strategic Bombing of Germany and Japan 186
Randall Wakelam
13 Scandinavian Campaigns 208
Olli Vehviläinen
14 The Naval War in the Mediterranean 222
Barbara Brooks Tomblin
15 Ocean War 243
Ashley Jackson
16 Maritime War: Combat, Management, and Memory 262
Kevin Smith
17 The Middle East and World War II 278
Simon Davis
18 The Western Front, 1944–1945 296
Christopher R. Gabel
19 Battle Fronts and Home Fronts: The War in the East from Stalingrad to Berlin 312
Kenneth Slepyan
20 German Defeat 333
Neil Gregor
21 Southwest Pacific 351
Mark Roehrs
22 The Military Occupations of World War II: A Historiography 368
Nicholas Evan Sarantakes
23 Ending the Pacific War: The New History 387
Richard B. Frank
Part III Multinational and Transnational Zones of Combat: Strategy 403
24 Axis Coalition Building 405
Richard L. DiNardo
25 Strategies, Commands, and Tactics, 1939–1941 415
Talbot C. Imlay
26 British and American Strategic Planning 433
Earl J. Catagnus, Jr.
27 Wartime Conferences 448
Mark A. Stoler
28 The US War Against Japan: A Transnational Perspective 462
Akira Iriye
29 World War II and Communication Technologies 477
James Schwoch
30 Of Spies and Stratagems 482
John Prados
31 French African Soldiers in World War II 501
Raffael Scheck
32 Scientists and Nuclear Weapons in World War II: The Background, the Experience, and the Sometimes Contested Meanings and Analyses 516
Barton J. Bernstein
33 Civilians in the Combat Zone: Anglo-American
Strategic Bombing 549
Sean L. Malloy
VOLUME II
Notes on Contributors x
Introduction 569
Part IV Multinational and Transnational Zones of Combat: Society 579
34 European Societies in Wartime 581
Isabelle Davion
35 Life in Plato's Cave: Neutral Europe in World War II 603
Neville Wylie
36 Resistance in Eastern Europe 618
Stephan Lehnstaedt
37 Boomerang Resistance: German Émigrés in the US Army during World War II 638
Patricia Kollander
38 Beyond Impact: Toward a New Historiography of Africa and World War II 652
Judith A. Byfield
39 Race, Genocide, and Holocaust 666
Jochen Böhler
40 Holocaust and Genocide Today 685
Yehuda Bauer
41 Environmental Dimensions of World War II 698
Jacob Darwin Hamblin
42 The Women of World War II 717
D'Ann Campbell
43 Transnational Civil Rights during World War II 739
Travis J. Hardy
44 Global Culture and World War II 754
M. Todd Bennett
Part V Homelands 773
45 The Balkans in the Origins of World War II 775
Marietta Stankova
46 Poland's Military in World War II 792
Michael Alfred Peszke
47 Resistance inside Nazi Germany 813
Frank McDonough
48 Occupied France: The Vichy Regime, Collaboration, and Resistance 825
Julian Jackson
49 The Italian Campaign 841
Elena Agarossi
50 US Foreign Policy, the Grand Alliance, and the Struggle for Indian Independence during the Pacific War 859
Sarah Ellen Graham
51 "P" Was for Plenty 875
William H. Miller
52 Generating American Combat Power in World War II 893
Edward G. Miller
53 American Anti-Semitism during World War II 909
Stephen H. Norwood
Part VI A ftermath and Consequences 927
54 War Crimes in Europe 929
Christoph J. M. Safferling
55 Anglo-American Postwar Planning 945
Charlie Whitham
56 The Cultural Legacy of World War II in Germany 962
Susanne Vees-Gulani
57 World War II in Historical Memory 978
Marc Gallicchio
58 The Place of World War II in Global History 999
Gerhard L. Weinberg
Index 1013
"Even so, this is a minor quibble. Zeiler, an expert on Japanese American relations and World War II, and DuBois, a doctoral candidate at the University of Colorado–Boulder, have per­formed a real service for the field and are to be commended for their work."  (The Journal of American History, 1 March 2014)
"This would be an essential purchase for academic and special libraries with large humanities collections."  (Reference Reviews, 1 November 2013)
"There is no doubt that, taken as a whole, the Companion is full of first-class, historiographical and bibliographical information and insights. . . Accordingly one can unreservedly recommend it to all University and Departmental libraries as a reliable work of reference on the state of research into the Second World War."  (Cercles, 1 December 2013)
"This companion is destined to become a valuable contribution to the historiography of the war, and should find a welcome home in either the reference or general collection of any academic library.  Summing Up.  Essential.  All academic levels/libraries."  (Choice, 1 September 2013)