A Companion to the Ancient Near East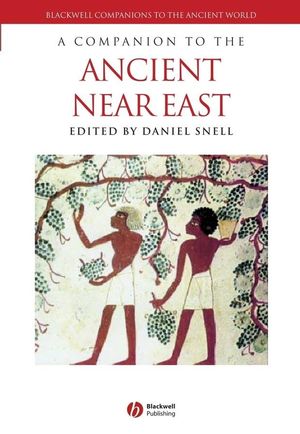 A Companion to the Ancient Near East
ISBN: 978-1-405-16001-8
Sep 2007, Wiley-Blackwell
560 pages
Description
A Companion to the Ancient Near East offers students and general readers a comprehensive overview of Near Eastern civilization from the Bronze Age to the conquests of Alexander the Great.



Covers the civilizations of the Sumerians, Hittites, Babylonians, Assyrians, Israelites and Persians

Places particular emphasis on social and cultural history

Covers the legacy of the Ancient Near East in the medieval and modern worlds

Provides a useful bibliographical guide to this field of study
Buy Both and Save 25%!
Original Price:$185.90
Purchased together:$139.43
save $46.47
Cannot be combined with any other offers.
List of Figures viii
List of Maps ix
Notes on Contributors x
Acknowledgments xv
Introduction xviii
Part I The Shape of the Ancient Near East 1
1 Historical Overview 3
Mario Liverani
2 From Sedentism to States, 10, 000–3000 BCE 20
Augusta McMahon
3 The Age of Empires, 3100–900 BCE 34
Mark Chavalas
4 World Hegemony, 900–300 BCE 48
Paul-Alain Beaulieu
Part II Discourses on Methods 63
5 Archaeology and the Ancient Near East: Methods and Limits 65
Marie-Henriette Gates
6 The Languages of the Ancient Near East 79
Gonzalo Rubio
7 The Historian's Task 95
Daniel C. Snell
Part III Economy and Society 107
8 The Degradation of the Ancient Near Eastern Environment 109
Carlos E. Cordova
9 Nomadism Through the Ages 126
Jorge Silva Castillo
10 Mesopotamian Cities and Countryside 141
Elizabeth C. Stone
11 Money and Trade 155
Christopher M. Monroe
12 Working 169
David A. Warburton
13 Law and Practice 183
Bruce Wells
14 Social Tensions in the Ancient Near East 196
John F. Robertson
15 Gender Roles in Ancient Egypt 211
Ann Macy Roth
16 Royal Women and the Exercise of Power in the Ancient Near East 219
Sarah C. Melville
17 Warfare in Ancient Egypt 229
Anthony J. Spalinger
Part IV Culture 243
18 Transmission of Knowledge 245
Benjamin R. Foster
19 Literature 253
Tawny L. Holm
20 Ancient Near Eastern Architecture 266
Sally Dunham
21 Mesopotamian Art 281
Marian H. Feldman
22 Ancient Mesopotamian Medicine 302
JoAnn Scurlock
23 Mesopotamian Cosmology 316
Francesca Rochberg
24 Divine and Non-Divine Kingship 330
Philip Jones
25 How Religion Was Done 343
Gary Beckman
Part V Heritage of the Ancient Near East 355
26 The Invention of the Individual 357
Daniel C. Snell
27 Ethnicity 370
Henri Limet
28 Public versus Private in the Ancient Near East 384
Steven J. Garfinkle
29 Democracy and Freedom 397
Matthew Martin III and Daniel C. Snell
30 Monotheism and Ancient Israelite Religion 408
S. David Sperling
31 The Decipherment of the Ancient Near East 421
Peter T. Daniels
32 Legacies of the Ancient Near East 430
Daniel C. Snell
References 434
Index 493
"This is a most useful collection of introductory essays. They crisply and lucidly convey the diversity and complexity of the ancient Near East, which make this an engaging book for the novice students and general reader." (
Ancient East and West
, 2008)
"Many will find specific chapters of interest, both for insights into their own specialities and for challenging overviews of related fields. Students will find stimulating introductions to a wide range of subjects, not treated in encyclopaedias or dryer standard works ... on which to hone their own critical faculties." (Bryn Mawr Classical Review)
"The chapters are written by some of the world's leading scholars, like the veterans Liverani and Limet ... Some of the articles are highly relevant, even dealing with contemporary issues such as the individual, ethnicity ... democracy, and freedom." (Scholia)
"As is usual for the Blackwell Companions the essays making up this volume have all been written by leading experts and as such the coverage is inclusive... The introduction, written by the editor, is excellent and clearly explains what the book is setting out to achieve, aims which are met. A Companion to the Ancient Near East is an excellent book and is one that should, without doubt, be read by those with a keen interest in this historical period." (Reference Reviews)
A Choice Outstanding Academic Title of the Year


A comprehensive overview of Near Eastern civilization from the Bronze Age to the conquests of Alexander the Great

Covers the civilizations of the Sumerians, Hittites, Babylonians, Assyrians, Israelites and Persians

Places particular emphasis on social and cultural history

Covers the legacy of the Ancient Near East in the medieval and modern worlds

Provides a useful bibliographical guide to this field of study