A Companion to the Antebellum Presidents, 1837 - 1861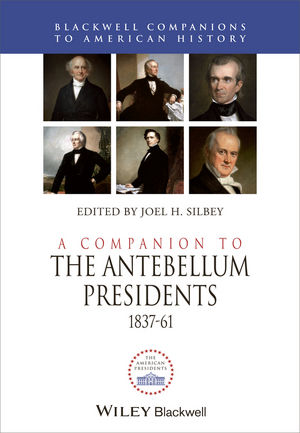 A Companion to the Antebellum Presidents, 1837 - 1861
ISBN: 978-1-444-33912-3 February 2014 Wiley-Blackwell 496 Pages
Description
A Companion to the Antebellum Presidents presents a series of original essays exploring our historical understanding of the role and legacy of the eight U.S. presidents who served in the significant period between 1837 and the start of the Civil War in 1861.
Explores and evaluates the evolving scholarly reception of Presidents Van Buren, Harrison, Tyler, Polk, Taylor, Fillmore, Pierce, and Buchanan, including their roles, behaviors, triumphs, and failures
Represents the first single-volume reference to gather together the historiographic literature on the Antebellum Presidents
Brings together original contributions from a team of eminent historians and experts on the American presidency
Reveals insights into presidential leadership in the quarter century leading up to the American Civil War
Offers fresh perspectives into the largely forgotten men who served during one of the most decisive quarter centuries of United States history
Table of contents
Notes on Contributors vii
Introduction 1
Joel H. Silbey
Part I General Themes 5
1. The Political World of the Antebellum Presidents 7
Joel H. Silbey
2. The Expansionist Impulse in Antebellum America 43
Michael A. Morrison
3. The Rise of Sectional Tensions: Parties, Slavery, and Abolitionism 65
Nicole Etcheson
4. The Antebellum Presidents and Foreign Policy 89
Jay Sexton
Part II The Presidents 107
5. Martin Van Buren as Party Leader and at Andrew Jackson's Right Hand 109
M. Philip Lucas
6. Van Buren and the Economic Collapse of the Late 1830s 131
Jonathan M. Atkins
7. "Tippecanoe and Tyler Too": William Henry Harrison and the Rise of Popular Politics 155
William G. Shade
8. President John Tyler, Henry Clay, and the Whig Party 173
Edward P. Crapol
9. James K. Polk and the Democratic Party 195
M. J. Heale
10. Polk in Office: Domestic Politics and Policies 221
Paul H. Bergeron
11. Polk as a War President 245
John C. Pinheiro
12. Polk as a Southern Sectionalist 269
Michael Todd Landis
13. Zachary Taylor in Office: Clay, the Whig Party, and the Sectional Crisis 291
Michael J. Birkner
14. Millard Fillmore, Whig Politician and Leader of His Party 309
Damon R. Eubank
15. President Fillmore and the Taming of Sectional Tensions 327
Elizabeth R. Varon
16. Franklin Pierce, Democratic Partisan 345
Yonatan Eyal
17. Franklin Pierce, the Kansas-Nebraska Bill, and the Political Transformation of the Mid-1850s 367
John F. Kirn, Jr.
18. James Buchanan: The Early Political Life of the Old Public Functionary 397
Jean H. Baker
19. James Buchanan, the Slavocracy, and the Disruption of the Democratic Party 421
James L. Huston
20. James Buchanan and the Secession Crisis 447
John Ashworth
Index 465
Reviews
"Provocative and modestly revisionist, this enlightening collection should be the first-choice volume for anyone interested in the political historiography of the antebellum presidents." (Presidential Studies Quarterly, 28 July 2015)
"Offers fresh perspectives into the largely forgotten men who served during one of the most decisive quarter centuries of United States history." (Expofairs.com, 17 December 2014)