A Companion to the Anthropology of American Indians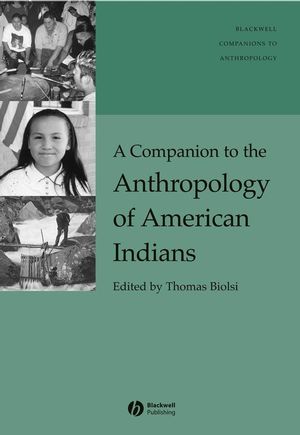 A Companion to the Anthropology of American Indians
ISBN: 978-1-405-18288-1 March 2008 Wiley-Blackwell 592 Pages
Description
This Companion is comprised of 27 original contributions by leading scholars in the field and summarizes the state of anthropological knowledge of Indian peoples, as well as the history that got us to this point.

Surveys the full range of American Indian anthropology: from ecological and political-economic questions to topics concerning religion, language, and expressive culture

Each chapter provides definitive coverage of its topic, as well as situating ethnographic and ethnohistorical data into larger frameworks

Explores anthropology's contribution to knowledge, its historic and ongoing complicities with colonialism, and its political and ethical obligations toward the people 'studied'
Synopsis of Contents x
Notes on Contributors xviii
Introduction: What is the ''Anthropology'' of ''American Indians''? 1
Thomas Biolsi
Part I: Environments and Populations 5
1 Political and Historical Ecologies 7
Kenneth M. Ames
2 Historical Demography 24
Russell Thornton
Part II: Political, Social, and Economic Organization 49
3 Women and Men 51
Martha C. Knack
4 Politics 69
Loretta Fowler
5 Tribal or Native Law 95
Bruce Granville Miller
6 Culture and Reservation Economies 112
Kathleen Pickering
Part III: Knowledge and Expressive Culture 131
7 Knowledge Systems 133
Eugene S. Hunn
8 Oral Traditions 154
Rodney Frey
9 Religion 171
Raymond Bucko
10 Music 196
Luke Eric Lassiter
11 Art 212
Rebecca J. Dobkins
Part IV: Colonialism, Native Sovereignty, Law, and Policy 229
12 Political and Legal Status (''Lower 48'' States) 231
Thomas Biolsi
13 Political and Legal Status of Alaska Natives 248
Caroline L. Brown
14 Federal Indian Policy and Anthropology 268
George Pierre Castile
15 Contemporary Globalization and Tribal Sovereignty 284
Randel D. Hanson
16 Treaty Rights 304
Larry Nesper
17 Education 321
Alice Littlefield
Part V: Cultural Politics and the Colonial Situation 339
18 Representational Practices 341
Pauline Turner Strong
19 The Politics of Native Culture 360
Kirk Dombrowski
20 Cultural Appropriation 383
Tressa Berman
21 Community Healing and Cultural Citizenship 398
Renya K. Ramirez
22 Native Hawaiians 412
Cari Costanzo Kapur
Part VI: Anthropological Method and Postcolonial Practice 433
23 Ethnography 435
Peter Whiteley
24 Beyond ''Applied'' Anthropology 472
Les W. Field
25 Language 490
James Collins
26 Visual Anthropology 506
Harald E. L. Prins
27 Archaeology 526
Larry J. Zimmerman
Index 542
"Highly recommended."
Choice
"Biolsi has produced a rich and comprehensive overview of the field by drawing on senior figures and younger scholars, academics and public intellectuals, and Native and non-Native voices. This volume is required reading for anyone wishing to enter, revisit, or advance the practice of Native American anthropology."
Philip Deloria, University of Michigan

"This invaluable volume offers the perspectives of individuals whose intellectual, social, emotional, and pragmatic commitment to better understanding our world have earned the respect and attention of Native and non-Native audiences."
Tsianina Lomawaima, University of Arizona
"This is a sterling compilation, expertly edited, that interrogates the dynamic and often contentious relationship between indigenous peoples and anthropologists."
David Wilkins, University of Minnesota


Surveys the full range of American Indian anthropology: from ecological and political-economic questions to topics concerning religion, language, and expressive culture

Each chapter provides definitive coverage of its topic, as well as situating ethnographic and ethnohistorical data into larger frameworks

Explores anthropology's contribution to knowledge, its historic and ongoing complicities with colonialism, and its political and ethical obligations toward the people 'studied'