A Companion to the British and Irish Novel, 1945 - 2000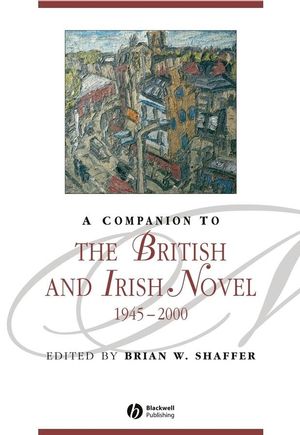 A Companion to the British and Irish Novel, 1945 - 2000
ISBN: 978-1-405-16745-1 January 2007 Wiley-Blackwell 608 Pages
Description
A Companion to the British and Irish Novel 1945-2000 serves as an extended introduction and reference guide to the British and Irish novel between the close of World War II and the turn of the millennium.



Covers a wide range of authors from Samuel Beckett to Salman Rushdie

Provides readings of key novels, including Graham Greene's 'Heart of the Matter', Jean Rhys's 'Wide Sargasso Sea' and Kazuo Ishiguro's 'The Remains of the Day'

Considers particular subgenres, such as the feminist novel and the postcolonial novel

Discusses overarching cultural, political and literary trends, such as screen adaptations and the literary prize phenomenon

Gives readers a sense of the richness and diversity of the novel during this period and of the vitality with which it continues to be discussed
Buy Both and Save 25%!
Original Price:$740.95
Purchased together:$555.71
save $185.24
Cannot be combined with any other offers.
Notes on Contributors ix
Preface xvi
Acknowledgments xx
PART I Contexts for the British and Irish Novel, 1945–2000 1
1 The Literary Response to the Second World War 3
Damon Marcel DeCoste
2 The ''Angry'' Decade and After 21
Dale Salwak
3 English Dystopian Satire in Context 32
M. Keith Booker
4 The Feminist Novel in the Wake of Virginia Woolf 45
Roberta Rubenstein
5 Postmodern Fiction and the Rise of Critical Theory 65
Patricia Waugh
6 The Novel and the End of Empire 83
Reed Way Dasenbrock
7 Postcolonial Novels and Theories 96
Feroza Jussawalla
8 Fictions of Belonging: National Identity and the Novel in Ireland and Scotland 112
Gerard Carruthers
9 Black British Interventions 128
John Skinner
10 The Recuperation of History in British and Irish Fiction 144
Margaret Scanlan
11 The Literary Prize Phenomenon in Context 160
James F. English
12 Novelistic Production and the Publishing Industry in Britain and Ireland 177
Claire Squires
13 The Novel and the Rise of Film and Video: Adaptation and British Cinema 194
Brian McFarlane
14 The English Heritage Industry and Other Trends in the Novel at the Millennium 210
Peter Childs
PART II Reading Individual Texts and Authors 225
15 Samuel Beckett's Watt 227
S. E. Gontarski and Chris Ackerley
16 George Orwell's Dystopias: Animal Farm and Nineteen Eighty-Four 241
Erika Gottlieb
17 Evelyn Waugh's Brideshead Revisited and Other Late Novels 254
Bernard Schweizer
18 Modernism's Swansong: Malcolm Lowry's Under the Volcano 266
Patrick A. McCarthy
19 The Heart of the Matter and the Later Novels of Graham Greene 278
Cedric Watts
20 William Golding's Lord of the Flies and Other Early Novels 289
Kevin McCarron
21 Amis, Father and Son 302
Merritt Moseley
22 Dame Iris Murdoch 314
Margaret Moan Rowe
23 Academic Satire: The Campus Novel in Context 326
Kenneth Womack
24 Lawrence Durrell's Alexandria Quartet 340
Julius Rowan Raper
25 The Oxford Fantasists: C. S. Lewis and J. R. R. Tolkien 354
Peter J. Schakel
26 Muriel Spark's The Prime of Miss Jean Brodie 367
Bryan Cheyette
27 Doris Lessing's The Golden Notebook 376
Judith Kegan Gardiner
28 Jean Rhys's Wide Sargasso Sea 388
John J. Su
29 John Fowles's The French Lieutenant's Woman 398
James Acheson
30 Angela Carter 409
Nicola Pitchford
31 Margaret Drabble 421
Margaret Moan Rowe
32 V. S. Naipaul 432
Timothy Weiss
33 Salman Rushdie 444
Nico Israel
34 The Irish Novel after Joyce 457
Donna Potts
35 Anita Brookner 469
Cheryl Alexander Malcolm
36 Julian Barnes's Flaubert's Parrot 481
Merritt Moseley
37 Kazuo Ishiguro's The Remains of the Day 493
Cynthia F. Wong
38 Ian McEwan 504
Rebecca L. Walkowitz
39 Graham Swift 515
Donald P. Kaczvinsky
40 The Scottish New Wave 526
David Goldie
41 A. S. Byatt's Possession: A Romance 538
Lynn Wells
42 Pat Barker's Regeneration Trilogy 550
Anne Whitehead
Index 561
"Esseintally two books in one, this is both a useful reference guide and a detailed introduction tot he postwar British novel." Recommended."
Choice



A comprehensive guide to the British and Irish novel between the close of World War II and the turn of the millennium

Covers a wide range of authors from Samuel Beckett to Salman Rushdie

Provides readings of key novels, including Graham Greene's 'Heart of the Matter', Jean Rhys's 'Wide Sargasso Sea' and Kazuo Ishiguro's 'The Remains of the Day'

Considers particular subgenres, such as the feminist novel and the postcolonial novel

Discusses overarching cultural, political and literary trends, such as screen adaptations and the literary prize phenomenon

Gives readers a sense of the richness and diversity of the novel during this period and of the vitality with which it continues to be discussed