A Companion to the Enlightenment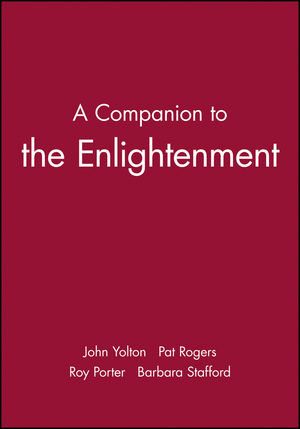 A Companion to the Enlightenment
ISBN: 978-0-631-19688-4 January 1991 Wiley-Blackwell 592 Pages
Description
The Companion focusses on the international intellectual movement of the Enlightenment, and the individuals who shaped it. A number of substantial essays survey the main topics of dictionaries, encyclopedias, art, music and theatre, while central philosophical concepts such as human nature are also examined. Specialized topics receive short definitions and there are several hundred biographies. Chronology. 100 halftones. Bibliographies. Index.
Table of contents
Foreword.
Introduction: Lester G. Crocker.
A-Z entries.
Index.
Reviews
"This enlightening companion is a work of reference valuable to anybody interested in the history of thought."
The Times
"An informative and authoritative resource." English Literature
"This attractive reference book will be of enormous value to anyone interested in virtually any aspect of the Enlightenment ... an essential volume for libraries, Enlightenment scholars, and anyone interested in the age." History
"Fine guide ... easy to use." Social & Behavioral Sciences
"This encyclopedic Companion is a much-needed triumph. A superb collection of short entries by leading scholars who judiciously blend fact and interpretation. Will be received and remain as the standard reference tool. Illuminates every area of the Enlightenment." European History Quarterly
"An immensely useful work of reference. This is a book which should be in every student's study." British Journal for 18th Century Studies
Features
* First source to draw together biographical entries across so wide a range of disciplines.
* In-depth treatment of main intellectual and philosophical movements.
* 100 selected pictures enhance the text.
* Expert contributors from many disciplines.