A Companion to the Roman Empire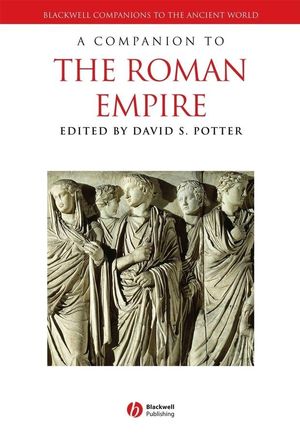 A Companion to the Roman Empire
ISBN: 978-1-405-19918-6
Dec 2009, Wiley-Blackwell
724 pages
Description
A Companion to the Roman Empire provides readers with a guide both to Roman imperial history and to the field of Roman studies, taking account of the most recent discoveries.
This Companion brings together thirty original essays guiding readers through Roman imperial history and the field of Roman studies
Shows that Roman imperial history is a compelling and vibrant subject

Includes significant new contributions to various areas of Roman imperial history

Covers the social, intellectual, economic and cultural history of the Roman Empire

Contains an extensive bibliography
Buy Both and Save 25%!
Original Price:$184.90
Purchased together:$138.68
save $46.22
Cannot be combined with any other offers.
List of Illustrations x
List of Tables xiii
Notes on Contributors xiv
Acknowledgments xvi
Reference works: Abbreviations xvii
Ancient authors: Abbreviations and Glossary xx
The Emperors of Rome from Augustus to Constantine xxix
Introduction: The Shape of Roman History: The Fate of the Governing Class 1
David S. Potter
PART I THE SOURCES 21
1 Constructing a Narrative 23
Cynthia Damon
2 Roman Imperial Numismatics 35
William E. Metcalf
3 Documents 45
Traianos Gagos and David S. Potter
4 Art, Architecture, and Archaeology in the Roman Empire 75
Lea Stirling
5 Interdisciplinary Approaches 98
James B. Rives
PART II NARRATIVE 113
6 The Emergence of Monarchy: 44 BCE–96 CE 115
Greg Rowe
7 Rome the Superpower: 96–235 CE 126
Michael Peachin
8 The Transformation of the Empire: 235–337 CE 153
David S. Potter
PART III ADMINISTRATION 175
9 The Administration of the Provinces 177
Clifford Ando
10 The Transformation of Government under Diocletian and Constantine 193
Hugh Elton
11 The Roman Army 206
Nigel Pollard
12 Greek Cities Under Roman Rule 228
Maud W. Gleason
13 Cities and Urban Life in the Western Provinces of the Roman Empire 30 BCE–250 CE 250
Jonathan Edmondson
PART IV SOCIAL AND ECONOMIC LIFE 281
14 The Imperial Economy 283
David Mattingly
15 Landlords and Tenants 298
Dennis P. Kehoe
16 The Family 312
Judith Evans Grubbs
17 Sexuality in the Roman Empire 327
Amy Richlin
18 On Food and the Body 354
Veronika E. Grimm
19 Leisure 369
Garrett G. Fagan
20 Spectacle 385
David S. Potter
PART V INTELLECTUAL LIFE 409
21 The Construction of the Past in the Roman Empire 411
Rowland Smith
22 Imperial Poetry 439
K. Sara Myers
23 Greek Fiction 453
Joseph L. Rife
24 Roman Law and Roman History 477
John Matthews
25 Roman Medicine 492
Ann Hanson
26 Philosophy in the Roman Empire 524
Sara Ahbel-Rappe
PART VI RELIGION 541
27 Traditional Cult 543
David Frankfurter
28 Jews and Judaism 70–429 CE 565
Yaron Z. Eliav
29 Christians in the Roman Empire in the First Three Centuries CE 587
Paula Fredriksen
30 Christian Thought 607
Mark Edwards
Bibliography 620
Index 681
"The essays are well written and are as accessible to undergraduate students as they are to advanced researchers who want to read more about the ways in which recent and innovative approaches in the discipline have transformed the study of Roman civilization and the field of ancient history. This book is a timely and relevant contribution to the Blackwell Companions to the Ancient World series." (
Classical Review
, 2007)
"Another admirable edition to Blackwell's large expanding series of Companions, it is of comparable length, but with just 30 contributors and 30 chapters … it gives each other more depth and breadth." (Ancient East and West, 2008)
"For those with reservations about the 'companion' phenomenon, [this volume] is an excellent advertisement for the benefits of such an exercise.... This volume is almost uniformly good as a guide to central topics in Roman history from the first to the forth century, with a number of outstanding discussions," (The Classical Review, 2008)
"A very impressive collection indeed, summarising and building on the latest scholarship, especially the view that there is more to history than politics and the powerful." (Journal of Classics Teaching)
"Scholar, student, and interested layperson will all find much to ponder here, and the editor, publisher, and contributors are to be commended for the success of their undertaking. This Companion, at least, constitutes a welcome addition to the field, offers a clear statement of the current state of the discipline, and provides inspiration for future directions" (New England Classical Journal)
"This Companion to the Roman Empire provides a fascinating and scholarly insight into our ancient past. It is an ideal reference tool for students and scholars alike, presenting new methods and modes of study that should provoke thought among the readership. It also brings together many disciplines of study that allow scholars to study an Empire as vast and influential as that created by the Romans." (Reference Reviews)
"The thirty chapters in this latest title in Blackwell's excellent "Companions to the Ancient World" series are written by such experts in their fields as Maud Gleason, Judith Evans Grubbs, Amy Richlin and Ann Hanson ... No comparable handbook exists ... Essential. All levels/libraries." (Choice—A Choice Outstanding Academic Title for 2007)
"This elegantly and carefully edited book is a resounding success." (Scholia Reviews)
"David Potter has assembled an impressive array of scholars whose essays in this volume provide overviews and summarize the current state of scholarship on a variety of topics. A Companion to the Roman Empire succeeds in meeting the needs of its diverse audience and also offers a few surprises." (Bryn Mawr Classical Review)
This Companion brings together thirty original essays guiding readers through Roman imperial history and the field of Roman studies
Shows that Roman imperial history is a compelling and vibrant subject
Includes significant new contributions to various areas of Roman imperial history
Covers the social, intellectual, economic and cultural history of the Roman Empire
Contains an extensive bibliography