A Complete Guide to Covered Calls: Manage Risk, Optimize Returns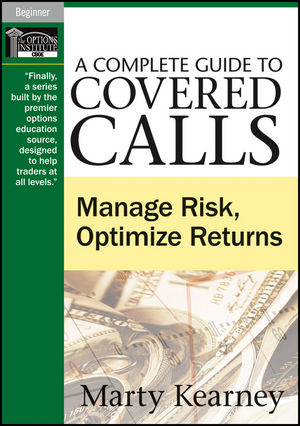 A Complete Guide to Covered Calls: Manage Risk, Optimize Returns
ISBN: 978-1-592-80384-2
Jan 2010
Description
Run Time: 90 minutes. 
"Finally, a series built by the premier options education source, designed to help traders at all levels.''

The covered call is an essential strategy for every options trader. In this new 90-minute video presentation, popular instructor Marty Kearney of The Options Institute at the CBOE explains the basics of covered call writing, including assignment and tax implications.From the motivations for utilizing the covered call to rolling your position up and out, Marty covers everything you need to know to trade this strategy. With clear-cut definitions and tons of real-world examples, he illustrates possible outcomes at expiration, including:
The static return,
The ''if-called'' return, and
The ''pure income'' static return.
As an options professional, Marty's unique insight reveals potential trouble spots, like:
The break-even point,
The indifference point, and
Early exercise.
With a comprehensive online support manual, Marty walks you through building your own tables and diagrams in order to determine possible profit/loss scenarios, and teaches you to plan ahead with exit strategies.