A Critical Guide to Twentieth-century Women Novelists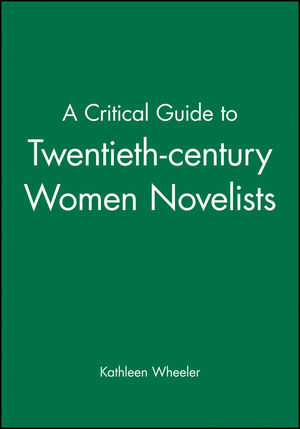 A Critical Guide to Twentieth-century Women Novelists
ISBN: 978-0-631-21211-9 November 1998 Wiley-Blackwell 460 Pages
Description
Kathleen Wheeler's critical guide is a major work of reference analysing the narrative practices and stylistic devices of women novelists all over the English-speaking world.
Table of contents
Preface.
Acknowledgments.
Alphabetical Table of Authors.
Part I: New Forms of Realism and the Rise of Early Modernism, 1895-1925:.
1. The Influence of Psychological Writings on Literature.
2. Introduction to Novelists, 1825-1925.
3. Entries. Sarah Orne Jewett. Kate Chopin. Mary Wilkins Freeman. Olive Schreiner. Vernon Lee. Barbara Baynton. George Egerton. Charlotte Perkins Gilman. Edith Wharton. May Sinclair. Henry Handel Richardson. Willa Cather. Dorothy Canfield Fisher. Catherine Carswell. Miles Franklin. Radclyffe Hall. Rose Macaulay. Susam Glaspell. Katharine Susannah Prichard. Anna Yezierska. Hilda Doolittle (HD). Katherine Mansfield. Rebecca West.
Part II: High Modernism, Other Experiments and the Continuing Development of the Socio-Moral Novel, 1918-1925:.
4. Modernism and Stream of Consciousness Fiction.
5. Introduction to Novelists.
6. Entries. Mary Ellen Glasgow. Julia M. Peterkin. Jesse Fauset. Pauline Smith. Frances Newman. Virginia Woolf. Ivy Compton-Burnett. Isak Dinesen (Karen Blixen). Katharine Anne Porter. Jean Rhys. Zora Neale Hurston. Djuna Barnes. Dorothy Parker. Sylvia Townsend Warner. Jean Devanny. Marjorie Barnard. Kate O'Brien. Winifred Holtby. Elizabeth Bowen. Zelda Fitzgerald. Eleanor Dark. Rosamund Lehman. Stevie Smith. Christina Stead. Kay Boyle. Anais Nin. Molly Keane (M. J. Farrell).
Part III: Neo-realism, the Post-War Novel, and Early Post-Modernist Innovations, 1944-1975:.
7. The New International Literatures in English.
8. Introduction to Novelists, 1944-1975.
9. Entries: Anna Kavan. Jessamyn West. Martha Gellhorn. Ann Petry. Eudora Welty. Marguerite Young. Hortense Calisher. Kylie Tennant. Tillie Olsen. Barbara Pym. Elizabeth Smart. Jean Stafford. Margaret Walker. Elizabeth Hardwick. Jane Bowles. Leonora Carrington. Carson McCullers. Muriel Spark. Doris Lessing. Iris Murdoch. Elizabeth Spencer. Mavis Gallant. Nadine Gordimer. Janet Frame. Kamal Markhandaya. Flannery O'Connor. Margaret Laurence. Harper Lee. Ruth Prawer Jhabvala. Edna O'Brien. Susan Sontag. Ann Quin.
Part IV: Further Internationalism, Diversification, and Experimentation, 1970-1995:.
10. Post Structuralist Theory and Fiction.
11. Introduction to Novelists, 1970-1995.
12. Entries. Meridel Le Sueur. Grace Paley. Elizabeth Jolley. Alison Lurie. Christine Brooke-Rose. Anita Brookner. Jane Gardam. Cynthia Ozick. Paule Marshall. Ursula Le Guin. Jennifer Johnston. Toni Cade Bambara. Shirley Hazzard. Toni Morrison. Alice Munro. Fay Weldon. Alice Thomas Ellis. Eva Figes. Miriam Masoli. Antonia Byatt. Anita Desai. Patricia Grace. Bessie Head. Joanna Russ. Emma Tennant. Sashi Deshpande. Margaret Atwood. Margaret Drabble. Angela Carter. Rachell Ingalls. Maxine Hong Kingston. Bobbie Anne Mason. Susan Kenney. Anne Tyler. Ama Ata Aidoo. Rose Tremain. Buchi Emecheta. Alice Walker. Kathy Acker. Keri Hulme. Leslie Marmon Silko. Gayl Jones. Jamaica Kincaid. Michele Roberts. Gloria Naylor. Jayne Anne Phillips. Amy Tan. Louise Erdrich. Jeannette Winterson. A. L. Kennedy.
Part V: Theory, Further Reading and Research:.
13. Feminist Theory and Writing.
14. More Women Writers Worldwide.
15. Selected Research Resources for the Twentieth Century Novel by Women.
Bibliography.
General Works and Criticism.
Anthologies.
Secondary Criticism on Individual Women Authors (Alphabetical Listing by women writer's name).
Index.
What's New
* A major comprehensive guide for students and teachers.
* Unique as critical and interpretative guide.
* Covers vast range of major, minor and obscure writers.
* Invaluable critical guide and bibliographical apparatus.