A Dictionary of Military History (and the Art of War)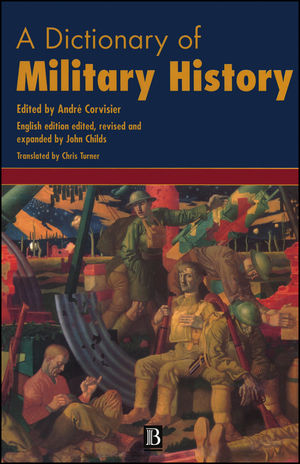 A Dictionary of Military History (and the Art of War)
ISBN: 978-0-631-16848-5
Sep 1994, Wiley-Blackwell
944 pages
Description
From Aeneas Tacitus to Zhukov, this is the most comprehensive dictionary of military history and military science to have been published. It covers those people, battles and campaigns, wars, countries, institutions and weapons that have fundamentally affected the nature and development of warfare. It also has a particular concern with civil-military relations and the role of armed forces in society. From the Hellenic period to the present day, including the questions of chemical and biological weaponry raised in the conflict with Iraq, the dictionary has comprehensive coverage of military history for students, scholars, specialists and general readers alike.


Originally published in French under the title Dictionnaire d'Art et d'Histoire Militaires, the new English language edition is expanded and completely revised and updated. All entries now carry full lists of recommended reading, and bibliographies have been thoroughly updated to include the latest literature. Many bibliographical entries have been added, as well as accounts of individual campaigns and battles. A main feature of the book is its broad thematic entries on such topics as naval and air warfare, as well as strategy, ballistics and other specialized topics.
List of Contributors to the French Edition vii
List of Contributors to the English Edition ix
Acknowledgements xi
Illustration Acknowledgements xii
Abbreviations xiii
Notes on Dates xvii
Introduction to the French Edition xix
Introduction to the English Edition xxiii
A Dictionary of Military History A - Z 1
Index 879
""Recommended for libraries with a strong collection in military history.""
Library Journal
""Admirably comprehensive and offers useful bibliographies after each article."" The Times
""Corvisier's excellent one-volume reference source for military history is ideally suited for an academic audience. Highly recommended for academic collections."" Choice