A Friendly Letter to Skeptics and Atheists: Musings on Why God Is Good and Faith Isn't Evil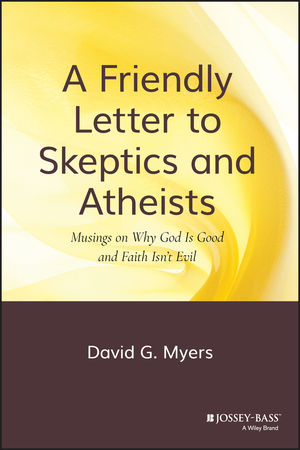 A Friendly Letter to Skeptics and Atheists: Musings on Why God Is Good and Faith Isn't Evil
ISBN: 978-0-470-29027-9 September 2008 Jossey-Bass 128 Pages
Description
A Friendly Letter to Skeptics and Atheists helps readers—both secular and religious—appreciate their common ground. For those whose thinking has moved from the religious thesis to the skeptical antithesis (or vice versa), Myers offers pointers to a science-respecting Christian synthesis. He shows how skeptics and people of faith can share a commitment to reason, evidence, and critical thinking, while also embracing a faith that supports human flourishing—by making sense of the universe, giving meaning to life, connecting us in supportive communities, mandating altruism, and offering hope in the face of adversity and death.
Preface v
False and Dangerous? 1
My Assumptions 4
Mea Culpa 8
The Dance of Fanatics and Infidels 11
Simplistic Stereotypes 14
The Heart of Science and Religion 17
The Skeptics' Boys Club 22
Inseparable Body and Soul 26
Does Prayer "Work"? 33
The Benevolent, Fine-Tuned Universe 44
Big Ideas and Biblical Wisdom 54
Secularism and Civility 64
God and Gays 74
(Nominal) Religion Feeds Prejudice 82
Godliness and Goodliness 87
Happy Faith-Heads 107
Healthy Faith-Heads 116
Does Explaining Religion Explain It Away? 121
The Leap of Faith 128
Appendix: International Society for Science and Religion Statement on Intelligent Design 133
Notes 137
Acknowledgments 150
The Author 152
"As a scientist, open-minded skeptic (who cheers on challenges to irrationalism), and a man of faith, [Myers] seeks to transcend the skeptic/believer divide by suggesting how faith can be reasonable, science-affirming, and humane."
–Skeptical Inquirer (January/February 2009)
"Reading Myers will not set to rest all the incongruities or failures of Christianity; but it will demonstrate, in a thoughtful and readable format, that God is good and that to follow in the steps of Jesus your soul will become bigger, better and more gracious."
– Youth Worker Journal
"The humility with which Myers writes and the intelligence with which he composes his arguments could disarm the most jaded cynic."
– Worship Leader Magazine
"Believers and skeptics could learn much from each other, and the author's willingness to build a bridge between two sometimes hostile territories is what makes his work so welcome. Myers's psychological training enables him to grasp the human person in a unique way, and he is able to introduce an intellectual element into the God debate."
–(Sept.) (Publishers Weekly, July 7, 2008)