A Good Teacher in Every Classroom: Preparing the Highly Qualified Teachers Our Children Deserve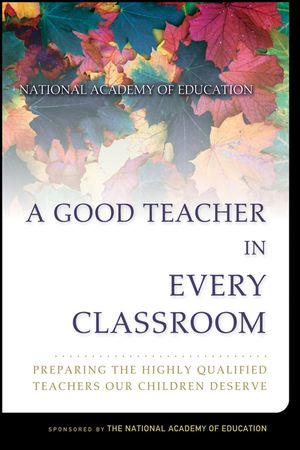 A Good Teacher in Every Classroom: Preparing the Highly Qualified Teachers Our Children Deserve
ISBN: 978-0-787-97466-4
Jul 2005, Jossey-Bass
104 pages
Description
What kind of experiences do children need in order to grow and learn? What kind of knowledge do teachers need in order to facilitate these experiences for children? And what kind of experiences do teachers need to develop this knowledge? A Good Teacher in Every Classroom addresses these questions by examining the core concepts and central pedagogies that should be at the heart of any teacher education program—and recommends the policy changes needed to ensure that all teachers gain access to this knowledge. This book is the result of a blue-ribbon commission sponsored by the National Academy of Education.
Preface and Acknowledgments ix
Committee on Teacher Education xi
Introduction 1
The Focus and Organization of This Report 3
1 What Do Teachers Need to Know? 5
Knowledge of Learners and Their Development 7
Knowledge of Subject Matter and Curriculum Goals 14
Knowledge of Teaching 17
In Sum . . . 27
2 How Can Teachers Acquire the Knowledge They Need? 29
How Teachers Develop and Learn 31
Problems of Learning to Teach 32
3 Implications for Teacher Preparation 37
Promising Pedagogies 41
In Sum . . . 50
4 Policy Recommendations 53
Development and Accreditation of Preparation Programs 57
Licensure Reform 60
Recruitment and Retention of New Teachers 63
Notes 73
Bibliography 77
About the Editors 83
Index 85
Synthesizes and summarizes key findings on educational policy and practice for busy policymakers and leaders
The book presents a framework for a core teacher education curriculum.
Includes recommendations for how to help new teachers develop a basic understanding of education, teaching and learning, and language development and how to implement this knowledge in the classroom. 
Will become the "Bible" for teacher education, thanks to the  sponsorship of the "blue-ribbon commission," the National Academy of Education.