A Grammar of Old English, 2 Volume Set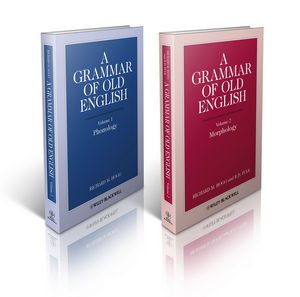 A Grammar of Old English, 2 Volume Set
ISBN: 978-1-444-39621-8 June 2011 Wiley-Blackwell 784 Pages
Description
The late Richard M. Hogg was Professor of English Language at the University of Manchester. He was the General Editor of the Cambridge History of the English Language and author, with C. B. McCully, of Metrical Phonology: A Coursebook (1987), and editor, with David Denison, of A History of the English Language (2008).



R. D. Fulk is Chancellor's Professor of English at Indiana University. His books include The Origins of Indo-European Quantitative Ablaut (1986), A History of Old English Meter (1992), and as editor, with Robert E. Bjork and John D. Niles, Klaeber's Beowulf and the Fight at Finnsburg, 4th Edition (2008).
Volume I.
Preface.
List of abbreviations.
1. Introduction.
2. Orthography and phonology.
3. The vowels in Germanic.
4. The consonants in Germanic.
5. Old English vowels.
6. Unstressed vowels.
7. Old English consonants.
References.
Word index.
Volume II.
Preface.
List of Abbreviations.
1. Preliminaries.
2. Nouns: Stem Nouns.
3. Nouns: Declensions.
4. Adjectives, Adverbs and Numerals.
5. Pronouns.
6. Verbs.
References.
Word Index.
Subject index.