A Guide to Graphic Print Production, 3rd Edition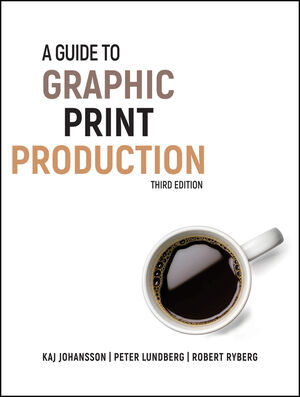 A Guide to Graphic Print Production, 3rd Edition
ISBN: 978-1-118-13022-3 May 2012 400 Pages
Description
The fully revised edition of the most comprehensive and up-to-date reference on print production
A II graphic designers and illustrators must be familiar with the steps involved in preparing their work for publication. Now completely revised to reflect the latest technology and trends, A Guide to Graphic Print Production, Third Edition is the complete guide to the entire process of print production, from the early stages of conception and planning, to the technical stages of manufacturing and off-press processing. Structured around the graphic print production flow, essential material is included for all aspects of the process including coverage of computers, color management, layouts, digital images, image editing, prepress, paper, printing, finishing and binding, legal issues, environmental issues, and more.
A practical reference to keep at your fingertips, this new edition:
Covers the entire production process, from conception to manufacturing to archiving

Covers new topics, such as variable data printing, sustainability, large/wide format printing, inks, and color management

Is full color throughout, with updated images and screenshots

Includes sidebars offering design tips, troubleshooting hints, and key points to consider for very stage of design
Delivering information that reflects all aspects essential for understanding the ins and outs of digital printing, A Guide to Graphic Print Production, Third Edition is an ideal resource for students and professionals of graphic design, print production, production technology, and visual communication.
Table of contents
01. graphic print production
8 The Graphic Print Production Flow
16 What Affects Costs?
23 Choosing a Service provider
25 Planning Graphic Print Production
02. the computer
30 The Computer
31 What Makes a Computer Fast?
33 The Monitor
36 Software
38 Storage Media
42 Communication
43 Network
47 The Internet
49 Transferring Files
03. color management
53 What is Color?
54 The Eye and Color
54 RGB: Additive Color Mixing
56 CMYK: Subtractive Color Mixing
58 Pantone and HKS: Two Spot Color Systems
61 Why Are the Colors Never Right?
61 CIE: A Device Independent Color System
62 RGB Color Standards
67 Color Management Systems
68 How the ICC Profile Works
73 Creating Effective Color Management
74 Color Management in Practice
75 Color Conversion
80 Problems with Color Management
04. digital images
84 Object Graphics
86 Pixel Graphics
86 Color Modes
92 Resolution
93 File Formats
100 Compression
103 Digital Cameras
110 Digital Photography
113 Scanners
119 Scanning Images
05. image editing
128 What is a Good Image?
129 Discussing Image Quality and Images
130 Proofing Images
140 Adjusting Images
156 Retouch and Photoshop Tools
165 Naming and Tagging
166 Adjusting the Image for Printing and the Web
168 Editing Images Effectively
06. layout
174 Layout Work
176 Text Manuscript
177 Mounting Text
180 Typefaces, Fonts, and Typography
184 Font File Formats and Functions
187 Pitfalls with Fonts
189 Images in Layout
190 Mounting Images
193 Color in Layout
197 Pitfalls in Managing Colors
199 Pitfalls in the Layout Work
203 Proofing
207 Proofs
209 Sending Documents to Print
211 Structuring and Archiving a guide to graphic print production | 5
07. prepress
216 Postscript
219 PDF
227 JDF: Job Definition Format
230 Adjusting for Printing
239 Proofing and Contract Proofs
246 Imposition
250 Halftone Screening
08. paper
266 Coated or Uncoated
266 Matte/Silk or Glossy
267 Wood-free pulp and Wood-pulp
267 Paper or Cardboard
267 Plastics and Foils
268 Paper Format
270 Basis/Substance Weight
270 Density and Bulk
271 Surface Smoothness and Formation
271 Brightness and Whiteness
271 Opacity
272 Grain Direction
273 Dimensional Stability
273 Strength
274 Age-Resistant and Archival Paper
274 Choosing a Paper
279 Paper and the Environment
282 Handling of the Paper
284 What Paper is Made Of
09. printing
292 Different Printing Techniques
292 Xerography
298 Inkjet
301 Sublimation
303 Offset
318 Letterpress
320 Screen Printing
322 Gravure Printing
325 Flexographic Printing
329 Print Makeready
330 Checking Prints
336 Printing Inks and Environmental Issues
10. finishing and binding
342 Different Types of Finishing and Binding
342 Before Finishing and Binding
344 Varnishing
344 Lamination
345 Foiling
345 Embossing
345 Cropping
346 Die-cutting
347 Punching
347 Folding
349 Creasing
350 Signatures and Sheet Order
351 Metal Stitching
352 Spiral Bindings
353 Glue Binding
353 Thread Sewing
354 Thread Sealing
354 Covering
356 Casing in
11. glossary
359 A
361 B
362 C
367 D
370 E
371 F
373 G
374 H
375 I
378 J
378 K
378 L
380 M
381 N
382 O
383 P
388 Q
388 R
390 S
395 T
397 U
398 V
398 W
399 X
399 Z