A Guide to Writing as an Engineer, 4th Edition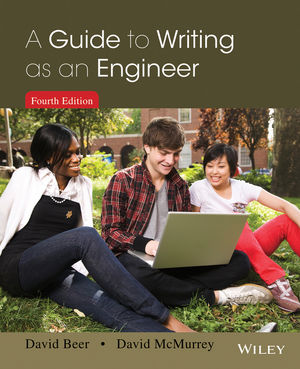 A Guide to Writing as an Engineer, 4th Edition
ISBN: 978-1-118-30027-5 May 2013 288 Pages
Description
The fourth edition of A Guide to Writing as an Engineer updates Beer and McMurrey's popular book on communication and technical writing for engineers.  Used predominantly in freshmen engineering survey courses, the text is also applicable for specific courses on engineering writing or technical communication later in the curriculum. A Guide to Writing as an Engineer deals with a variety of topics ranging from important writing concepts that apply to professional engineers, to content, organization, format and style of various kinds of engineering writing.  The book also covers oral presentations, research techniques, ethics, and proper citation methods.  Beer remains a practical, handy book that can function not only as a classroom textbook, but also as a reference and guide for writing and research, for practicing engineers. 
Table of contents
1. Engineers and Writing 1
Engineers Write a Lot 2
Engineers Write Many Kinds of Documents 4
Successful Engineering Careers Require Strong Writing Skills 5
Engineers Can Learn to Write Well 6
Noise and the Communication Process 7
Controlling the Writing System 9
Exercises 11
Bibliography 11
2. Eliminating Sporadic Noise in Engineering Writing 12
Spelling and Spell Checkers 13
Punctuation 13
Traditional Sentence Errors 21
Technical Usage 29
Edit, Edit, Edit 38
Exercises 38
Bibliography 39
3. Guidelines for Writing Noise-Free Engineering Documents 40
Focus on Why You Are Writing 41
Focus on Your Readers 42
Satisfy Document Specifications 43
Get to the Point 44
Provide Accurate Information 45
Present Your Material Logically 45
Explain the Technical to Nonspecialists 46
Make Your Ideas Accessible 48
Use Efficient Wording 52
Format Your Pages Carefully 60
Express Yourself Clearly 61
Manage Your Time Efficiently 66
Edit at Different Levels 67
Share the Load: Write as a Team 68
Exercises 71
Bibliography 71
4. Letters, Memoranda, Email, and Other Media for Engineers 72
Which to Use? 73
Writing Style for Business Correspondence 76
Communication Strategies for Tricky Situations 77
Business Letters: Components and Format 78
Business Memoranda 82
Email: Functions, Style, Format 85
New Internet Media 87
Exercises 89
Bibliography 90
5. Writing Common Engineering Documents 91
Some Preliminaries 92
Inspection and Trip Reports 94
Research, Laboratory, and Field Reports 95
Specifications 98
Proposals 102
Progress Reports 105
Instructions 109
Recommendation Reports 114
Exercises 118
Bibliography 118
6. Writing Research and Design Reports 119
Engineering Research Reports 119
Engineering Design Reports 130
General Report Design and Format 131
Generating Portable Document Files 133
Using CMS and Other Applications for Team Reports 135
Exercises 136
Bibliography 137
7. Constructing Engineering Tables and Graphics 138
Tables 138
Charts and Graphs 142
Illustrations 145
Graphics and Tables: Guidelines 146
Exercises 147
Bibliography 148
8. Accessing Engineering Information 149
Basic Search Strategies 150
Sources of Engineering Information 154
Internet Engineering Information Resources 172
Internet Search Tools 174
Exercises 176
Bibliography 177
9. Engineering Your Speaking 178
Preparing the Presentation 179
Delivering the Presentation 190
Presenting as a Team 195
Checklist for Oral Presentations 196
Listening to Presentations 198
The Importance of Informal Communication 198
Exercises 199
Bibliography 200
10. Writing to Get an Engineering Job 201
How to Write an Engineering Résumé 202
How to Write an Application Letter 214
How to Write a Follow-Up Letter 226
Exercises 228
Bibliography 228
11. Ethics and Documentation in Engineering Writing 229
Engineering Ethics 229
The Ethics of Honest Research 235
Exercises 243
Bibliography 243
12. Engineering Your Online Reputation 244
Introduction to Social Media Management 244
Creating a WordPress Blog 247
Building a Facebook Page for a Business 250
Using Twitter to Connect and Share Information 256
Generating Your Interactive Résumé on LinkedIn 259
Targeting Experts with Google+ 263
Bibliography 266
Index 267
New To This Edition
Incorporates new coverage of Social Media in a chapter written by Jill Brockmann of Austin Community College, including popular emerging forms, discussion of best practices, dangers/ethics of using social media, and "noise" in social media.
Updated content and revisions. Chapter 8 has been substantially revised to address the emergence of search engines and provides a set of guidelines for evaluating sources and proper citation methods.  The Informal Communication section in Chapter 9 has been expanded to address "oral informal communication" within a cultural context.
Boxes added in each chapter summarizing an interesting, new technology and/or device.
Stories added abouthistorical and modern day technical failures, as prompts for student reports and projects.   
Features
Introduces the concept of noise in communication rather than focusing on errors and poor writing, as in traditional courses, alleviating negative feelings students have about the writing and revision process.
Examples from real engineering writing that concentrate on the engineering discipline and the specific area of focus that the student is studying and will be practicing as a professional.
Coverage of ethics—Presents two different Engineering Codes of Ethics (IEEE and ABET) showing how engineers and/or student interns can implement these codes on the job if faced with an ethical decision.
Shows how to document information taken from other sources by providing examples of numerous kinds of sources.