A Handbook for DNA-Encoded Chemistry: Theory and Applications for Exploring Chemical Space and Drug Discovery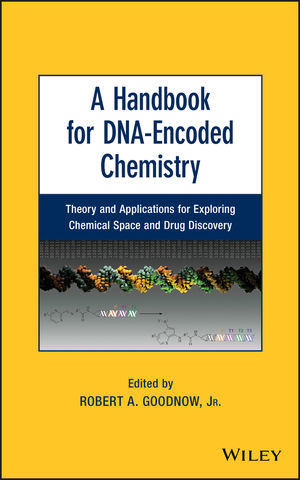 A Handbook for DNA-Encoded Chemistry: Theory and Applications for Exploring Chemical Space and Drug Discovery
ISBN: 978-1-118-83267-7 April 2014 480 Pages
Description
This book comprehensively describes the development and practice of DNA-encoded library synthesis technology. Together, the chapters detail an approach to drug discovery that offers an attractive addition to the portfolio of existing hit generation technologies such as high-throughput screening, structure-based drug discovery and fragment-based screening. The book:
Provides a valuable guide for understanding and applying DNA-encoded combinatorial chemistry
Helps chemists generate and screen novel chemical libraries of large size and quality
Bridges interdisciplinary areas of DNA-encoded combinatorial chemistry – synthetic and analytical chemistry, molecular biology, informatics, and biochemistry
Shows medicinal and pharmaceutical chemists how to efficiently broaden available "chemical space" for drug discovery
Provides expert and up-to-date summary of reported literature for DNA-encoded and DNA-directed chemistry technology and methods
Preface vii
Acknowledgments ix
Introductory Comments xi
Contributors xxiii
1 Just enough knowledge… 1
Agnieszka Kowalczyk
2 A brief history of the development of combinatorial chemistry and the emerging need for DNA-encoded chemistry 19
Robert A. Goodnow, Jr.
3 A brief history of DNA-encoded chemistry 45
Anthony D. Keefe
4 DN A-Compa tible Chemistry 67
Kin-Chun Luk and Alexander Lee Satz
5 Foundations of a DNA-encoded library (DEL) 99
Alexander Lee Satz
6 EXERCISES IN THE SYNTHESIS OF DNA-ENCODED LIBRARIES 123
Steffen P. Creaser and Raksha A. Acharya
7 the dna tag: A Chemical gene designed for DNA-encoded libraries 153
Andrew W. Fraley
8 Analytical challenges for DNA-encoded library systems 171
George L. Perkins and G. John Langley
9 Informatics: Functionality and architecture for DNA-encoded library production and screening 201
John A. Feinberg and Zhengwei Peng
10 Theoretical considerations of the application of DNA-encoded libraries to drug discovery 213
Charles Wartchow
11 Begin with the End in Mind: The hit-to-lead process 231
John Proudfoot
12 Enumeration and Visualization of Large Combinatorial Chemical Libraries 247
Sung-Sau So
13 Screening Large Compound Collections 281
Stephen P. Hale
14 Reported applications of DNA-encoded library chemistry 319
Johannes Ottl
15 Dual-Pharmacophore DNA-Encoded Chemical Libraries 349
Jörg Scheuermann and Dario Neri
16 Hit Identification and Hit Follow-up 357
Yixin Zhang
17 Using DNA to Program Chemical Synthesis, Discover New Reactions, and Detect Ligand Binding 377
Lynn M. McGregor and David R. Liu
18 the changing feasibility and economics of chemical diversity exploration with DNA-encoded combinatorial approaches 417
Robert A. Goodnow, Jr.
19 Keeping the promise? An outlook on DNA chemical library technology 427
Samu Melkko and Johannes Ottl
Index 435