A Heidegger Dictionary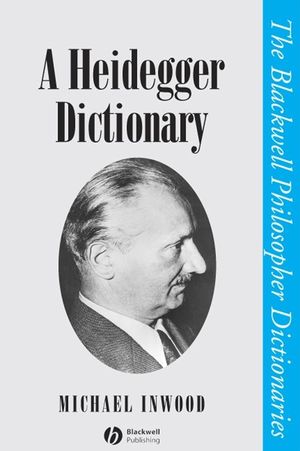 A Heidegger Dictionary
ISBN: 978-0-631-19094-3
Oct 1999
300 pages
Description
A Heidegger Dictionary enables the student to read Heidegger's immensely rich and varied works with understanding, and assigns him to his rightful place in both contemporary philosophy and in the history of the subject.
Acknowledgements.
System of abbreviations.
Notes on the use of this book.
Heidegger and his language.
Dictionary Entries.
Further reading.
General index.
Index of foreign words and expressions.
"Inwood provides a very good bibliography of primary and secondary sources, an essay on Heidegger's idiosyncratic language, a general index and another for "foreign words and expressions," and the dictionary itself....The dictionary consists of brief essays on concepts and concept clusters and on four of Heidegger's major works, all as clear as possible and very much to the point...One of the most intelligible books in the English about this thinker." J.M. Perreault, Choice.
* Makes use of a wider range of Heidegger's writings than other books on him.
* Explains the niceties of Heidegger's German and Greek to the English-speaking reader.
* Makes sense of some of Heidegger's ideas that are often either paraphrased in obscure language or rejected as stark contraventions of the canons of anglo-american philosophy.
* Will appeal to anyone interested in Heidegger on any level.