A History of Australia, New Zealand and the Pacific: The Formation of Identities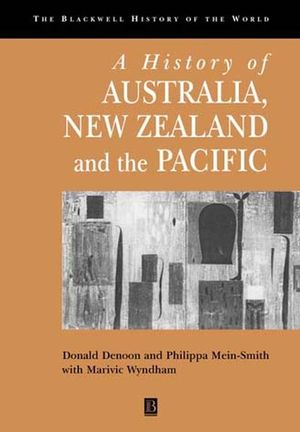 A History of Australia, New Zealand and the Pacific: The Formation of Identities
ISBN: 978-0-631-21873-9 November 2000 Wiley-Blackwell 544 Pages
Description
This book provides an arresting interpretation of the history of Australia, New Zealand and the Pacific from the earliest settlements to the present. Usually viewed in isolation, these societies are covered here in a single account, in which the authors show how the peoples of the region constructed their own identities and influenced those of their neighbours.

By broadening the focus to the regional level, this volume develops analyses - of economic, social and political history - which transcend
national boundaries. The result is a compelling work which both describes the aspirations of European settlers and reveals how the dispossessed and marginalized indigenous peoples negotiated their own lives as best they could. The authors demonstrate that these stories are not separate but rather strands of a single history.
Introduction.
Part I: Foundations of Contemporary Identities.
1. Representations of Regional, National and 'Ethnic' Identities.
Naming Rights.
European Frameworks.
Anthropology.
Development Economics.
History.
Not a Self-Evident Region.
2. Patterns of Pre-European Settlement and Interaction.
'Indigenous' Communities.
Austronesians, Lapita, Polynesians: Chronologies and Charters.
Fragmentation.
What Held Societies Together?.
Dealing with Outsiders.
3. Intersecting Worlds.
'Scientific Discoveries' and Conceptual Maps.
Captain Cook.
Du Fresne.
Encounters in the Twentieth Century.
Maori Discovery of Aborigines.
4. Depopulation and Immigration.
Depopulation.
Dying Races.
Displacement.
Colonization and Settlement.
Part II: New Societies and Economies.
5. New Social Forms.
Convicts and Settlers.
Protestants and Polynesians.
The Catholic Revival.
The New Laws.
Tensions Between Empires.
Sport and Civilization.
6. Struggles for Land.
Maori and Pakeha.
Australian Squatters and Selectors.
Island Plantations and Cooperatives.
Land, Sovereignty and War.
Land and Destinies.
7. Mining.
Eldorado v. Arcadia.
Digger Democracy.
Types of Mining Enterprise.
Other Minerals.
Mining in the Islands.
8. Labour Relations.
The Convicts in Australia.
Women Convicts.
Free Settlement.
Assisted Labour.
A French Australia?.
Segregated Labour Markets.
Plantations.
Part III: New States and Social Identities.
9. New States.
An Imagined Region.
The Entrepreneurial States.
Kingitanga.
Australian Federation and Manifest Destinies.
10. New Settler Societies.
Men's Countries, Women's Rights.
Whom to Exclude.
Settler Societies and Cultural Expressions.
The Bulletin.
Bush Mythologies.
Urban Australia.
11. Capital and Labour: Resisting Globalization.
Boom and Bust.
Arbitration and Protection.
The Family and the Gender Division of Labour.
12. Be Prepared!.
Defence.
Social Preparations.
Populate or Perish.
Measures.
Part IV: Wars and Reconstructions.
13. The Great War.
Anzac Legends.
Mothers, Sisters and Wives.
Women's War Service.
Pacifists.
The Odd Woman Out: Ettie Rout.
14. Anxious Peace.
Financial Insecurity.
The Great Depression.
Welfare.
Eugenics and King Baby.
For Art and Country: The Literature of Nation-Building.The Island Dependencies.
Maori and Aboriginal Initiatives.
15. War in Europe, and in the Pacific.
Storm Clouds.
War in Europe.
War in the Pacific.
Taking Part.
Women and Men.
Plans and Visions of Reconstruction.
New Zealand: Equality of Opportunity.
Bringing the Australian Intelligentsia to Heel.
16. Inter-dependencies.
Cold War, the American Alliance and Nuclear Politics.
Colonial Administrations Restored.
Migration from Europe, Polynesia, Asia.
Maori and Aboriginal Urbanization.
Suburbia.
Decentralization.
Part V: Reflections on Contemporary Identities.
17. Expanding Citizenship.
Aboriginal Australians.
Torres Strait Islanders.
South Sea Islanders.
Maori Revival and the Waitangi Tribunal.
Women's Liberation and Feminist Politics.
18. Decolonization?.
Colonial Contexts.
British Withdrawal.
French Dependencies.
Anglo-French Condominium.
New Zealand and Australian Dependencies.
Island Independence.
19. Globalization and National Identities.
The Closer Economic Relationship.
Muldoon and Douglas.
Australia and APEC.
Mining.
Global or Regional?.
20. Popular Culture.
Cultural Globalization.
An Australian Hoax.
Youth Revolution.
Popular Culture.
American Influence and Local Invention.
From Bush to Beach Australia.
Clean, Green New Zealand.
Film.
Sport.
Expatriates.
Globalism and Parochialism.
21. Contemporary Identities.
Regional Crises and Security.
New Caledonia.
Wallace's Other Line.
Defining Aotearoa/New Zealand.
Defining Australia.
A Coherent Region.
Appendix.
Bibliography.
Index.
"An extremely welcome addition to the insulated worlds of Australian, New Zealand and Pacific Island history ... of particular use to under-graduate and graduate courses dealing with these national contexts"
Times Higher Education Supplement
<!--end-->
" ... scholarly and well documented with maps, illustrations, appendixes, complete bibliography and index ... highly recommended for all university collections" CHOICE

"Denoon and his co-authors have made very important additions to the still relatively small historiography of the Pacific." Pacific History

"Substantial and informative ... an insightful study that will prove challenging for academic and general readers of history on both sides of the Tasman, and no doubt beyond ... Donald Denoon's and Philippa Mein-Smith's achievement in delineating the past 200 years of this region will, one would predict, stand unchallenged for some considerable time." Australian Historical Studies

"This is an important book." International History Review

"A considerable achievement. It is also lively and enlightening, not least in the numerous shrewd asides which season it." English Historical Review