A History of Childhood, 2nd Edition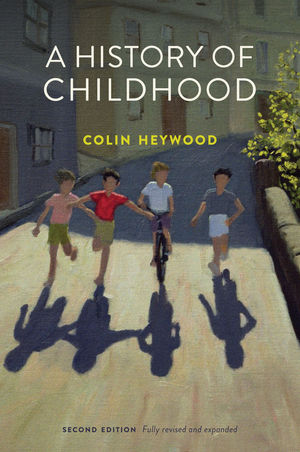 A History of Childhood, 2nd Edition
ISBN: 978-0-745-65165-1 January 2018 Polity 256 Pages
Description
Colin Heywood's classic account of childhood from the early Middle Ages to the First World War combines a long-run historical perspective with a broad geographical spread.

This new, comprehensively updated edition incorporates the findings of the most recent research, and in particular revises and expands the sections on theoretical developments in the 'new social studies of childhood', on medieval conceptions of the child, on parenting and on children's literature. Rather than merely narrating their experiences from the perspectives of adults, Heywood incorporates children's testimonies, 'looking up' as well as 'down'. Paying careful attention to elements of continuity as well as change, he tells a story of astonishing material improvement for the lives of children in advanced societies, while showing how the business of preparing for adulthood became more and more complicated and fraught with emotional difficulties.

Rich with evocative details of everyday life, and providing the most concise and readable synthesis of the literature available, Heywood's book will be indispensable to all those interested in the study of childhood.
Table of contents
Contents
Acknowledgements
Introduction
Part I: Changing Conceptions of Childhood
1 Conceptions of Childhood in the Middle Ages
2 The Quest for a Turning Point
3 Some Themes in the Cultural History of Childhood
Part II: Growing up in the Family
4 The Start of a New Life
5 A Precarious Infancy
6 Early Childhood, Age Two to Seven
7 Later Childhood, Age Seven to Fourteen
Part III: Children in a Wider World
8 Children at Work in Agricultural Societies
9 Child Labour and Industrialization
10 Children's Leisure Activities
11 Children's Health
11 The Child and the School
Conclusion
Notes
Select Bibliography
Index
New To This Edition
-Incorporates the most recent research in the field
-Includes revised and expanded sections on theoretical developments in the 'new social studies of childhood', medieval conceptions of the child, parenting, and children's health
Reviews
"This is a lively, accessible and compelling overview of how childhood has been thought about and experienced over the last 800 years. Grounded in recent scholarship it provides a very effective summary of key debates, approaches and themes. It is an excellent introduction to the topic for students, and essential reading for all those interested in the ways in which children's lives have changed for better or worse across time."
Louise Jackson, University of Edinburgh
"Anyone interested in the history of childhood will do well to start with Heywood's fine work. It covers necessary topics, like child labor, schooling and health, but also subtler ones including child agency, the relationship of children to good and evil and the "value" of children. It is also a great read."
Carl Ipsen, Indiana University

"Looking for a good book about childhood's past, I waited for the new Second Edition of A History of Childhood. Although written with scholarly correctness, it's accessible, and it turns out to be a pretty good story, too."
Howard Blumenthal, Digital Insider