A History of Literary Criticism: From Plato to the Present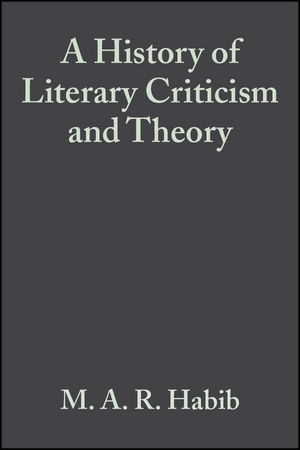 A History of Literary Criticism: From Plato to the Present
ISBN: 978-1-405-14884-9 April 2008 Wiley-Blackwell 848 Pages
Download Product Flyer
Download Product Flyer
Download Product Flyer is to download PDF in new tab. This is a dummy description. Download Product Flyer is to download PDF in new tab. This is a dummy description. Download Product Flyer is to download PDF in new tab. This is a dummy description. Download Product Flyer is to download PDF in new tab. This is a dummy description.
Description
This comprehensive guide to the history of literary criticism from antiquity to the present day provides an authoritative overview of the major movements, figures, and texts of literary criticism, as well as surveying their cultural, historical, and philosophical contexts.


Supplies the cultural, historical and philosophical background to the literary criticism of each era

Enables students to see the development of literary criticism in context

Organised chronologically, from classical literary criticism through to deconstruction

Considers a wide range of thinkers and events from the French Revolution to Freud's views on civilization

Can be used alongside any anthology of literary criticism or as a coherent stand-alone introduction
Table of contents
Acknowledgments viii
Abbreviations of Frequently Cited Works ix
Introduction 1
Part I Ancient Greek Criticism 7
Classical Literary Criticism: Intellectual and Political Backgrounds 9
1 Plato (428–ca. 347 bc) 19
2 Aristotle (384–322 bc) 41
Part II The Traditions of Rhetoric 63
3 Greek Rhetoric 65
Protagoras, Gorgias, Antiphon, Lysias, Isocrates, Plato, Aristotle
4 The Hellenistic Period and Roman Rhetoric 80
Rhetorica, Cicero, Quintilian
Part III Greek and Latin Criticism During the Roman Empire 103
5 Horace (65–8 bc) 105
6 Longinus (First Century ad) 118
7 Neo-Platonism 129
Plotinus, Macrobius, Boethius
Part IV The Medieval Era 149
8 The Early Middle Ages 151
St. Augustine
9 The Later Middle Ages 166
Hugh of St. Victor, John of Salisbury, Dante Alighieri, Geoffrey de Vinsauf, Ibn Rushd (Averroës), St. Thomas Aquinas
10 Transitions: Medieval Humanism 215
Giovanni Boccaccio, Christine de Pisan
Part V The Early Modern Period to the Enlightenment 227
11 The Early Modern Period 229
Giambattista Giraldi, Lodovico Castelvetro, Giacopo Mazzoni, Torquato Tasso, Joachim Du Bellay, Pierre de Ronsard, Sir Philip Sidney, George Gascoigne, George Puttenham
12 Neoclassical Literary Criticism 273
Pierre Corneille, Nicolas Boileau, John Dryden, Alexander Pope, Aphra Behn, Samuel Johnson
13 The Enlightenment 311
John Locke, Joseph Addison, Giambattista Vico, David Hume, Edmund Burke, Mary Wollstonecraft
Part VI The Earlier Nineteenth Century and Romanticism 347
Introduction to the Modern Period 349
14 The Kantian System and Kant's Aesthetics 357
15 G. W. F. Hegel (1770–1831) 382
16 Romanticism (I): Germany and France 408
Friedrich von Schiller, Friedrich Schleiermacher, Germaine de Staël
17 Romanticism (II): England and America 428
William Wordsworth, Samuel Taylor Coleridge, Ralph Waldo Emerson, Edgar Allan Poe
Part VII The Later Nineteenth Century 467
18 Realism and Naturalism 469
George Eliot, Émile Zola, William Dean Howells, Henry James
19 Symbolism and Aestheticism 489
Charles Baudelaire, Walter Pater, Oscar Wilde
20 The Heterological Thinkers 502
Arthur Schopenhauer, Friedrich Nietzsche, Henri Bergson, Matthew Arnold
21 Marxism 527
Karl Marx, Friedrich Engels, György Lukács, Terry Eagleton
Part VIII The Twentieth Century 555
The Twentieth Century: Backgrounds and Perspectives 557
22 Psychoanalytic Criticism 571
Freud and Lacan
23 Formalisms 602
Victor Shklovsky, Boris Eichenbaum, Mikhail Bakhtin, Roman Jakobson, John Crowe Ransom, William K. Wimsatt, Monroe C. Beardsley, T. S. Eliot
24 Structuralism 631
Ferdinand de Saussure, Roland Barthes
25 Deconstruction 649
Jacques Derrida
26 Feminist Criticism 667
Virginia Woolf, Simone de Beauvoir, Elaine Showalter, Michèle Barrett, Julia Kristeva, Hélène Cixous
27 Reader-Response and Reception Theory 708
Edmund Husserl, Martin Heidegger, Hans Robert Jauss, Wolfgang Iser, Stanley Fish
28 Postcolonial Criticism 737
Frantz Fanon, Edward Said, Gayatri Chakravorty Spivak, Homi Bhabha, Henry Louis Gates, Jr.
29 New Historicism 760
Stephen Greenblatt, Michel Foucault
Epilogue 772
Selective Bibliography 777
Index 791
Reviews
Winner of a 2006 CHOICE Outstanding Academic Title Award
"[A] magnificently comprehensive history of literary criticism. Authoritative, formidable, generous and compassionate … Habib's achievements are many, but two stand out. The first is the putting of theory into historical perspective and the second is to make connections between criticism and philosophy."
Times Higher Education Supplement

"This is a book to be read cover to cover, and those who undertake that happy task will be better informed. They will understand the twin pillars of Western civilization, Hellenism and the Judaic Christian ethic. They will understand the intersections of philosophy, literature, and religion. They will understand Plato, Aristotle, the Age of Enlightenment, Romanticism, and the three great thinkers who forever shifted thought at the beginning of the 20th century: Marx, Freud, and Darwin. Dividing the discussion into eight chronological sections, from ancient Greece to the 20th century, Habib (English, Rutgers Univ.) discusses each period in detail, exploring major critical figures and their works in a way that illuminates, rather than exhausts, the issues they are concerned with. His explorations entice one to read more, and that is the best kind of criticism. Summing Up: Essential. All readers; all levels."
CHOICE

"Philosophically sophisticated and full of fascinating connections and distinctions ...a monumental achievement."
Ron Bush, University of Oxford

"Rafey Habib's History of Literary Criticism, with its substantial grounding in classical texts and its excellent coverage of contemporary criticism and theory, is certain to be as highly regarded as Wimsatt and Brooks' Literary Criticism: A Short History. Habib's lucidity and wit will also make his book highly teachable."
Michael Payne, Bucknell University

"This huge undertaking offers a comprehensive, expository and lucid account - including close readings of selected formative texts - of the history of literary criticism and theory from the earliest western classics to influential contemporary movements, while also embedding these in their broader social, cultural and philosophical contexts. A major resource - as narrative or as compendium - for students at all levels."
Peter Widdowson, University of Gloucestershire

"Beginning with Plato and Aristotle, Habib traces how the study of literature evolved in the West. His strength lies in his short segments, which allow readers to absorb the major thoughts of the critics and movements without being overwhelmed. While the book runs nearly 900 pages, it is easy to maneuver. All told, Habib delivers an accessible yet scholarly survey of literary criticism."
Ron Ratliff, Kansas State University

"A History of Literary Criticism: From Plato to the Present by M. A. R. Habib is a useful introduction and quick reference … The attention to each writer and their major works is significant and detailed, with major historical interpretive shifts noted."
Studies in English Literature 1500 - 1900

"Best single-volume introduction to Western literary theory … .With its admirably clear explanation of concepts and terminology, [it] admirably fulfils the promise of its title."
Literary Research Guide"Habib's survey of literary theory and criticism is serious, ambitious, informative and intellectually challenging." Bryn Mawr Classical Review
Features


An informed guide to the history of literary criticism from antiquity to the present day

Supplies the cultural, historical and philosophical background to the literary criticism of each era

Enables students to see the development of literary criticism in context

Organised chronologically, from classical literary criticism through to deconstruction

Considers a wide range of thinkers and events from the French Revolution to Freud's views on civilization

Can be used alongside any anthology of literary criticism or as a coherent stand-alone introduction