A History of Modern Drama, Volume II: 1960 - 2000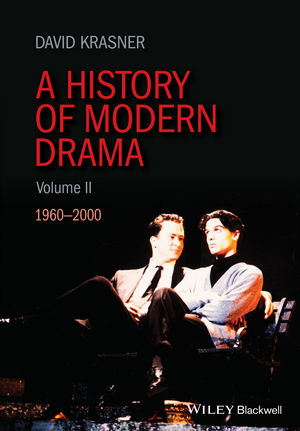 A History of Modern Drama, Volume II: 1960 - 2000
ISBN: 978-1-405-15758-2 April 2016 Wiley-Blackwell 608 Pages
Description
A History of Modern Drama: Volume II explores a remarkable breadth of topics and analytical approaches to the dramatic works, authors, and transitional events and movements that shaped world drama from 1960 through to the dawn of the new millennium.
Features detailed analyses of plays and playwrights, examining the influence of a wide range of writers, from mainstream icons such as Harold Pinter and Edward Albee, to more unorthodox works by Peter Weiss and Sarah Kane
Provides global coverage of both English and non-English dramas – including works from Africa and Asia to the Middle East
Considers the influence of art, music, literature, architecture, society, politics, culture, and philosophy on the formation of postmodern dramatic literature
Combines wide-ranging topics with original theories, international perspective, and philosophical and cultural context
Completes a comprehensive two-part work examining modern world drama, and alongside A History of Modern Drama: Volume I, offers readers complete coverage of a full century in the evolution of global dramatic literature.
Table of contents
Preface and Acknowledgments ix
Part I: Introduction 1
Chapter 1 Strangers More than Ever: Modern Drama and Alternative Modernities 3
Part II: United Kingdom and Ireland 47
Chapter 2 Jewish Oedipus, Jewish Ethics: Harold Pinter and Postmodern Philosophy 49
Chapter 3 Tom Stoppard and the Limits of Empiricism 92
Chapter 4 Caryl Churchill, Monetarism, and the Feminist Dilemma 119
Chapter 5 "Can't Buy Me Love": Socialism, Working Class Sensibilities, and Modern British Drama 139
Chapter 6 Between Past and Present: Brian Friel's "Symbolic Middle Ground" 186
Part III: United States 205
Chapter 7 "Participate, I suppose": Edward Albee and the Specter of Death 207
Chapter 8 "Ask a Criminal": White Postmodern Manhood in David Mamet and Sam Shepard 225
Chapter 9 Modern Drama, Modern Feminism, and Postmodern Motherhood 254
Chapter 10 History, Reinvention, and Dialectics: African American Drama and August Wilson 279
Chapter 11 Tony Kushner's Angels in America: Postmodern Ethics in the Age of Reagan 301
Part IV: Western and Eastern Europe 319
Chapter 12 Post]War, Cold War, and Post]Cold War: Marxism, Post]Totalitarianism, and European Drama in the Postmodern Era 321
Chapter 13 Eastern Europe, Totalitarianism, and the Wooden Words 353
Part V: Postcolonial Drama 387
Chapter 14 The Fragmentation of the Self in Postcolonial Drama 389
Chapter 15 Africa: Wole Soyinka, Athol Fugard, and Christina Ama Ata Aidoo 401
Chapter 16 Central and South America: Carlos Fuentes and Derek Walcott 417
Chapter 17 Asia and the Middle East: Yukio Mishima, Gao Xingjian, Girish Karnad, Hanoch Levin, and SaaDallah Wannous 429
Chapter 18 Canada: Ann]Marie MacDonald and Judith Thompson 449
Part VI: Nihilism at the Door 459
Chapter 19 Crisis of Values and Loss of Center in the Plays of Martin McDonagh and Sarah Kane 461
Chapter 20 Blasted, The Lieutenant of Inishmore, and Phaedra's Love 477
Chapter 21 Pushing More Boundaries: Children and Desire 493
Notes 500
Index 567
Reviews
David Krasner's A History of Modern Drama, Volume II: 1960–2000 offers… a structural and technique-based approach to differentiating dramatic eras. In his sequel to A History of Modern Drama, Volume I, Krasner shifts focus from dividing drama by time periods (i.e., "modern" and "contemporary") to categorizing dramatic eras according to their use of different formal techniques (i.e., "modern" and "postmodern"). This is an important distinction, as book-length studies on postmodern drama are few. Krasner's Volume II makes this scholarly move feel like a logical step and a natural conclusion.
This book will reinvigorate the study of postmodernism and drama. This is a worthy and important volume that should be read by anyone who teaches theatre history and/or modern and postmodern drama courses.

- Michael Y. Bennett, Modern Drama