A History of Psychology: Original Sources and Contemporary Research, 3rd Edition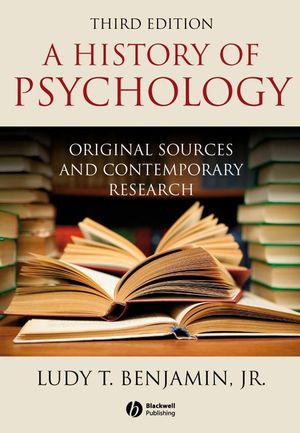 A History of Psychology: Original Sources and Contemporary Research, 3rd Edition
ISBN: 978-1-405-17711-5
Jun 2008, Wiley-Blackwell
448 pages
Product not available for purchase
Description
The third edition of A History of Psychology is a highly readable compendium of primary source writings from the founders of psychology and works by more contemporary historians. The revised reader includes 17 new articles, 10 of which were written after 2000. Coverage is universal and global – from Locke, Wundt and Skinner to modern scholars such as Henning Schmidgen, Sir Frederic C. Bartlett and George Mandler.
Introduces students to the philosophy and methods of historical research and writing, linking primary source readings with contemporary articles
Covers Applied Psychology, Clinical Psychology, and historical treatments of race and gender
Promotes History of Psychology as an active research specialty
A perfect compliment to Benjamin's Brief History of Modern Psychology
Preface.
1. Historiography – Asking and Answering Historical Questions.
2. Philosophical and Physiological Roots of Modern Psychology.
3. Wilhelm Wundt and the Founding of Scientific Psychology.
4. Origins of Scientific Psychology in America.
5. Structuralism and Functionalism.
6. Birth of the New Applied Psychology.
7. Psychoanalysis.
8. Behaviorism and Neobehaviorism.
9. The New Profession of Psychology.
10. A Psychology of Social Change: Race and Gender.
11. Cognitive Psychology.
References
More concise with 44 articles.

Twenty-two articles are new

Thirteen of the contemporary readings are since 2000.

Specific connections are made between original sources from the founders with the contemporary research.


A highly readable compendium of primary source writings from the founders of psychology and works by contemporary historians

Introduces students to the philosophy and methods of historical research and writing, linking primary source readings with contemporary articles

Covers Applied Psychology, Clinical Psychology, and historical treatments of race and gender

Promotes History of Psychology as an active research specialty

A perfect compliment to Benjamin's Brief History of Modern Psychology