A History of Pyschology 3e & A History of Psychology in Letters 2e, 2 Volume Set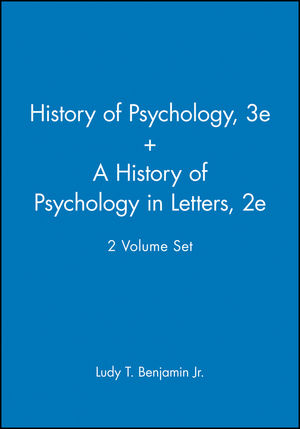 A History of Pyschology 3e & A History of Psychology in Letters 2e, 2 Volume Set
ISBN: 978-0-470-47432-7
Nov 2008
712 pages
Product not available for purchase
Description
2 Volume Set includes A History of Psychology 3rd Edition & A History of Psychology in Letters 2nd Edition
A History of Psychology, 3rd Edition
The third edition of A History of Psychology is a highly readable compendium of primary source writings from the founders of psychology and works by more contemporary historians. The revised reader includes 17 new articles, 10 of which were written after 2000. Coverage is universal and global – from Locke, Wundt and Skinner to modern scholars such as Henning Schmidgen, Sir Frederic C. Bartlett and George Mandler.
Introduces students to the philosophy and methods of historical research and writing, linking primary source readings with contemporary articles
Covers Applied Psychology, Clinical Psychology, and historical treatments of race and gender
Promotes History of Psychology as an active research specialty
A perfect compliment to Benjamin's Brief History of Modern Psychology
A History of Psychology in Letters, 2nd Edition
The private thoughts, emotions, hopes, and frustrations contained in this collection of letters written by key figures in psychology provide rich insight into the development of the field. From John Locke writing parenting advice in 17th century Holland to Kenneth B. Clark responding to the impact of his research on the 19th century Brown v. Board decision, this book illustrates the history of the psychology in a direct, engaging manner.
Uses primary source materials to provide students with a unique view of the story of psychology.
Features an introduction to historiography, focusing on how historians use manuscript collections in their work.
Includes chapter-opening material that explains the historical context, brief annotations to help clarify the content, and an epilogue that concludes these important stories in psychology.
The second edition adds new annotations by Benjamin, giving greater life and dimension to the learning about the people and ideas that have influenced the development of psychology.