A History of the Modern British Isles, 1529-1603: The Two Kingdoms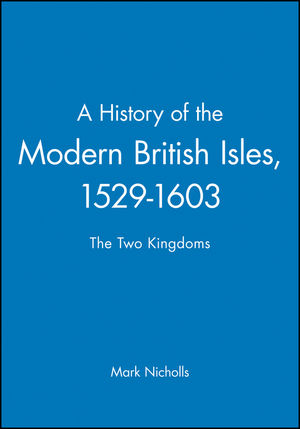 A History of the Modern British Isles, 1529-1603: The Two Kingdoms
ISBN: 978-0-631-19334-0 January 1999 Wiley-Blackwell 416 Pages
Description
This volume examines the development of two sovereign nations over seventy-four momentous years.
List of Plates.
Acknowledgements.
A Note on Conventions.
Introduction.
1. Sixteenth-century England.
2. Divorce, Schism and Statute: England 1529-36.
3. Pilgrimage, Dissolution and Reform: England 1536-40.
4. The Last Years of Henry VIII: England 1540-47.
5. Pre-Reformation Scotland, 1528-57.
6. The Reformation and the Reign of Queen Mary: Scotland 1557-67.
7. Protector Somerset: England 1547-49.
8. The Dudley Supremacy and the Reign of Jane Grey: England 1549-53.
9. Queen Mary's Regime: England 1553-58.
10. The Third Kingdom: Ireland, and Beyond, 1529-60.
11. The Elizabethan Settlement: England 1558-63.
12. Unelizabethan England: England 1560-72.
13. The Elizabethan State: England in the 1570s and Beyond.
14. England's Empire: Ireland, and Beyond, 1560-1603.
15. The Loss of Peace: England 1580-89.
16. A Nation at War: England in the 1590s.
17. The Jacobean Minority: Scotland 1568-85.
18. The Personal Rule of James VI: Scotland 1585-1603.
19. The Elizabethan Dusk: England 1599-1603.
Further Reading.
Chronology.
Index.
"Dr Nicholls has proved to be a resourceful choice ... he delivers an accurate, sensitive and engaging account, never allowing the reader to be lost in the quagmires of scholarly debate."
History
<!--end-->
"The book is fluently written and well produced." English Historical Review

"An impressive achievement ... well written: lucid, concise and stylistically unpretentious." Irish Historical Studies
A lively reassessment of England and Scotland under the Tudors and Stuarts
Examines the relationship with Ireland throughout the sixteenth-century
Covers politics and religion as well as economic, social and cultural change.