A History of the Roman Republic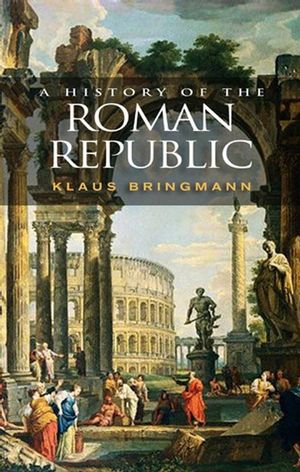 A History of the Roman Republic
ISBN: 978-0-745-63370-1
Mar 2007, Polity
368 pages
Description
In this new and authoritative history of the Roman republic, distinguished historian Klaus Bringmann traces the rise of a small city state near the Tiber estuary into a power that controlled the Italian peninsula and created the final Empire of antiquity, an Empire that was to become both the most enduring in the ancient world and to have the most far-reaching consequences for posterity.

Whilst this book is chronologically organized, giving the reader a clear sense of the historical progress and dynamics of Roman republican history, it also offers a coherent and authoritative overview of the culture, economics, religion and military might of the Roman empire, presented in an original and stimulating way.

Thoroughly referenced and illustrated throughout, with a wealth of primary sources from great Roman writers such as Cicero and Plutarch, A History of the Roman Republic will be essential reading for university students in history and classical studies. It will also appeal to a wider audience of general readers who are interested in the history of the Ancient world and its legacy.
Buy Both and Save 25%!
Original Price:$319.90
Purchased together:$239.92
save $79.98
Cannot be combined with any other offers.
Preface
I ROME AND ITALY
The foundation of the city of Rome
The rise of Rome as a major power in Italy
The constitution of the classical Republic
The rise of the nobility
II ROME AND THE MEDITERRANEAN
The war with King Pyrrhus
The First Punic War
Celts and Illyrians
The Second Punic War
The war with the great Hellenistic powers
The vengeful world power and the beginnings of the Roman Empire
III THE CRISIS OF THE REPUBLIC AND ITS CAUSES
Culture and Religion under Greek influence
The monetary economy and its impact
The crisis of the military and agrarian system
The Gracchan reform initiatives
The road to the civil war: Marius and Sulla
The state of the dictator Sulla
IV THE FALL OF THE REPUBLIC
The rise of Pompey
Caesar and the First Triumvirate
From the Gallic War to the Civil War
The state of the dictator Caesar
The lost struggle for the Republic
V. AUGUSTUS: DEFEAT AND FULFILMENT OF THE REPUBLIC
The Second Triumvirate and the struggle for power
Principate and Republic: End and Beginning
APPENDICES
Chronological table
Note on the sources and bibliography
Illustrations Acknowledgements
Index
"The translation is crisp and iomatic and, judging from a selected sampling of passages, is, so far as I can judge, faithful to the original. Bringmann's history is here presented in a commendable version."
Les Études Classiques
"Bringmann's thorough and detailed survey of the Roman Republic will be a welcome resource for those seeking an introduction to the period."
Celia Schulz, Yale University

"In this work, the author has shown himself to be fully conversant with both primary and secondary sources, and has succeeded in presenting a thorough analysis of the rise and fall of the Roman Republic. One particular strength of Bringmann?s study is that he frequently challenges the traditional interpretation of various events or policies, thereby preventing his work from being a mere historical narrative. I would certainly recommend this work to anyone interested in the history of the Roman Republic."
Christopher Epplett, University of Lethbridge
A major new history of the Roman republic written by an expert in the field.

The first all-round general textbook on the Roman republic, clearly and accessibly written.

A coherent and authoritative synthesis of this period in Roman history.

Provides a rich and detailed account of the political and military history of the Roman republic, as well as introducing social, cultural and economic developments.

Will fill the significant gap for a high quality all round introduction to the Roman republic.

Is likely to gain adoptions as a textbook on 2nd and 3rd year undergraduate courses, as well as being recommended to younger students.

Contains a wealth of illustrations