A Hobbes Dictionary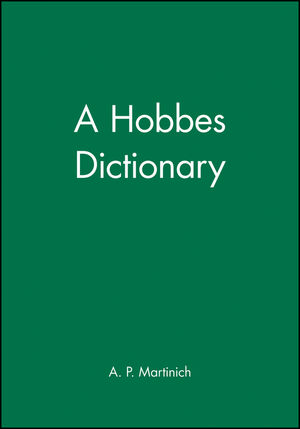 A Hobbes Dictionary
ISBN: 978-0-631-19262-6 August 1995 Wiley-Blackwell 352 Pages
Description
This dictionary provides a comprehensive and cohesive expository account of about one hundred and fifty key concepts covering the entire range of Hobbes's thought, from philosophy, political theory and science, to theology, history and mathematics.
Table of contents
Preface.
Abbreviations.
1. Thomas Hobbes in Stuart England.
2. A Chronology of Hobbes's Life and Works.
3. A Chronology of English History for the Study of Hobbes's Thought.
4. Dictionary of Entries A-Z.
Bibliography.
Index.
Reviews
"Martinich offers a superb aid to study of the thought of Thomas Hobbes, the 17th-century English philosopher whose philosophy of law and the state remains controversial. The bulk of the work is a dictionary with approximately 140 entries that cover the full range of Hobbes's thought, including concepts in metaphysics, epistemology, science, politics and theology. The entries provide a helpful exposition of difficult concepts in Hobbes's writing and attempt to clarify, in a balanced, critical way, the problematic and controversial features of his philosophy." Choice
Features
* Includes a short history of 17th-Century England as it relates to Hobbes's thought.
* Includes a chronology of Hobbes's life and works.
* Comprehensive expository coverage of around 150 key concepts.
* Explicitly addressed to students of philosophy, politics, history, theology.