A Laboratory Guide to Human Anatomy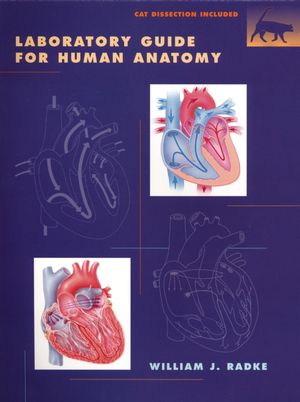 A Laboratory Guide to Human Anatomy
ISBN: 978-0-471-41413-1 January 2002 352 Pages
Description
This text is for the 1-semester undergraduate human anatomy laboratory course. Nearly all 1 semester anatomy courses include a laboratory requirement in addition to the regular classroom lecture. The Radke Anatomy Lab Manual will be written to not only accompany the new edition of Tortora's Principles of Human Anatomy 9e (Summer 2001), but will also work effectively in conjunction with any of the leading textbooks on the market (Martini, Marieb, Van De Graaff). The enrollment for the lab course reflects that of the textbook market - approximately 100,000 students annually.
The Radke Anatomy Lab Manual presents the material covered in a clear and concise manner and contains many interactive activities and experiments that will enhance students' ability to visualize anatomical structures. Lab exercises will be designed to require students to first apply information and to also critically evaluate it.
Table of contents
Preface: Read This First

Chapter 1
Introduction to the Human Organism

Chapter 2
Cells

Chapter 3
Tissues

Chapter 4
Integumentary System

Chapter 5
Skeletal System: Tissues and Organization

Chapter 6
Skeletal System: Axial Skeleton

Chapter 7
Skeletal System: Appendicular Skeleton

Chapter 8
Joints

Chapter 9
Muscle Tissue

Chapter 10
Skeletal Muscles

Chapter 11
Skeletal Muscles of the Cat

Chapter 12
Cardiovascular System

Chapter 13
Cardiovascular System of the Cat

Chapter 14
Lymphatic System

Chapter 15
Nervous System

Chapter 16
Sensation

Chapter 17
Endocrine System

Chapter 18
Respiratory System

Chapter 19
Digestive System

Chapter 20
Urogenital System

Chapter 21
Topography

Histology Atlas
Cat Dissection Atlas
Glossary
Index

Features
Minimal Text. Specific details are available in the textbook. We will only provide text to set up and support the activities in the lab.