A Leader's Legacy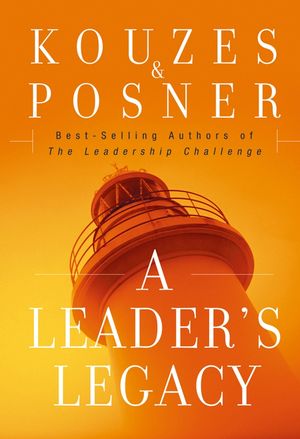 A Leader's Legacy
ISBN: 978-0-470-48283-4 December 2008 Jossey-Bass 208 Pages
Description
In this provocative book, leadership experts and authors of the best-selling The Leadership Challenge, Jim Kouzes and Barry Posner take on a unique challenge and explore the question of leadership and legacy. Kouzes and Posner examine in twenty-two chapters the critical questions all leaders must ask themselves in order to leave a lasting impact. These powerful essays are grouped into four categories: Significance, Relationships, Aspirations, and Courage. In each essay the authors consider a thorny and often ambiguous issue with which today's leaders must grapple issues—such as how leaders serve and sacrifice, why leaders need loving critics, why leaders should want to be liked, why leaders can't take trust for granted, why it's not just the leader's vision, why failure is always an option, why it takes courage to "make a life," how to liberate the leader in everyone, and ultimately, how the legacy you leave is the life you lead.
Introduction.
Part One: Significance.
1 Leaders Serve and Sacrifice.
2 The Best Leaders Are Teachers.
3 We All Need Loving Critics.
4 You Are the Most Important Leader in Your Organization.
5 No One Likes to Be an Assumption.
Part Two: Relationships.
6 Leadership Is Personal.
7 Leaders Should Want to Be Liked.
8 When You Don't See Eye to Eye, Seek toUnderstand.
9 You Can't Take Trust for Granted.
10 Let Your People Go.
Part Three: Aspirations.
11 Lead from the Inside Out.
12 Forward-Looking Is a Leadership Prerequisite.
13 It's Not Just the Leader's Vision.
14 Liberate the Leader in Everyone.
15 Leaders Are Followers, Too!
Part Four: Courage.
16 There's Courage in All of Us.
17 You Can't Plan to Be Courageous, But You Can Choose It.
18 It Takes Courage to Make a Life.
19 The Courage to Be Human.
20 Failure Is Always an Option.
21 No Money-Back Guarantee.
Afterword: The Legacy You Leave Is the Life You Lead.
Notes.
Acknowledgments.
About the Authors.
Index.
" …an often emotional but compelling book…offers a thoughtful and reassuring perspective that any leader or aspiring leader can use…" (Business Executive, June 2007)