A Manager's Guide to Strategic Retirement Plan Management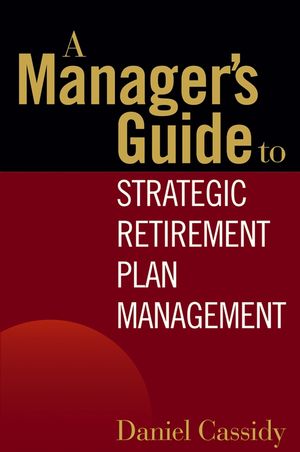 A Manager's Guide to Strategic Retirement Plan Management
ISBN: 978-0-470-03922-9
May 2006
288 pages
Description
""Daniel Cassidy has written a detailed, comprehensive guide for managers to understand and succeed at the ongoing process of managing a company retirement plan. If motivating your employees is important to you as a manager, this book is an essential key to your success.""
--Josh Gordon, author of Presentations That Change Minds and Selling 2.0

Written by renowned retirement benefits planning specialist Daniel Cassidy, A Manager's Guide to Strategic Retirement Plan Management focuses on current best practices regarding company-sponsored retirement plans within the United States.

Filled with in-depth insights and expert advice, this valuable guide will aid managers in applying strategic thinking to their retirement plan management activities--whether it be a 401(k) plan, investing in company stock, or a traditional defined benefit plan. It will also help you to view retirement plans in a holistic manner--ever more necessary given the unpredictable economy and recent troubles with companies such as Enron and WorldCom.

Covering everything from administrative issues to financial and legal responsibilities, A Manager's Guide to Strategic Retirement Plan Management will allow you to make the best decisions possible while managing this ongoing process and help you find solutions that best fit your organization's specific needs.
Acknowledgments vii
Chapter 1 Introduction 1
Chapter 2 The Basics of Retirement Plans 5
Chapter 3 Administration 23
Chapter 4 Fiduciary Duty 33
Chapter 5 Financial 49
Chapter 6 Human Resources 79
Chapter 7 How to Hire the Right Consultants 107
Chapter 8 General Trends 119
Chapter 9 Where to Go for Help? 141
Appendix A Company ABC—Request for Proposal: 401(k) Savings Plan 147
Appendix B Sample Traditional Request for Proposal 151
Appendix C Sample Defined Contribution Plan Investment Policy Statement 167
Appendix D 401(k) Plan Investment Performance Review 181
Appendix E Replacement Ratio Study: A Measurement Tool for Retirement Planning 203
Appendix F Selecting a Default Fund for a Defined Contribution Plan 233
Appendix G Argus Consulting Ltd NGO Retirement
Plan Survey—2005 Results 255
Appendix H Lessons from Behavioral Finance and the
Autopilot 401(k) Plan 257
Index 275
""The book offers strategic and pragmatic ""tell it like it is"" advice on a variety of key issues…"" (PEF, July 2007)