A New History of Shinto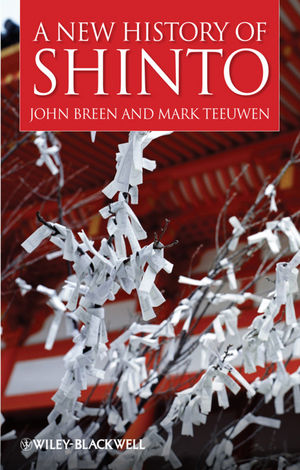 A New History of Shinto
ISBN: 978-1-405-15516-8
Jan 2010, Wiley-Blackwell
280 pages
Description
This accessible guide to the development of Japan's indigenous religion from ancient times to the present day offers an illuminating introduction to the myths, sites and rituals of kami worship, and their role in Shinto's enduring religious identity.
Offers a unique new approach to Shinto history that combines critical analysis with original research
Examines key evolutionary moments in the long history of Shinto, including the Meiji Revolution of 1868, and provides the first critical history  in English or Japanese of the Hie shrine, one of the most important in all Japan
Traces the development of various shrines, myths, and rituals through history as uniquely diverse phenomena, exploring how and when they merged into the modern notion of Shinto that exists in Japan today
Challenges the historic stereotype of Shinto as the unchanging, all-defining core of Japanese culture
Buy Both and Save 25%!
Original Price:$105.90
Purchased together:$79.43
save $26.47
Cannot be combined with any other offers.
List of Illustrations vi
Conventions and Abbreviations Used in the Text vii
Prologue ix
1 An Alternative Approach to the History of Shinto 1
2 Kami Shrines, Myths, and Rituals in Premodern Times 24
3 The History of a Shrine: Hie 66
4 The History of a Myth: The Sun-Goddess and the Rock-Cave 129
5 The Daijo-sai: A "Shinto" Rite of Imperial Accession 168
6 Issues in Contemporary Shinto 199
Conclusion 221
Notes 229
References 242
Index 253
"It is a measure of the book's achievement that it has managed to introduce such scholarly notions in a way that is at once accessible and instructive. Even  those skeptical about its claims would have to admit the solidity of the research, and the book renders valuable service by opening up debate about Shinto's origins to a general readership. Its influence is likely to be long lasting."  (Japan Review, 2012)
"Breen and Teeuwen offer a postmodern, historical exposition of Shinto. In addition to independent research, they draw on a wide field of contemporary Japanese Shinto studies . . . The book is thus not only a result of solid academic work-it is also an ambitious political assessment." (Japanese Journal of Religious Studies, 2010)
"But for anyone interested in Shinto studies, religion and nationalism, and the contested and ever-changing nature of religious traditions, this is an essential read." (Religious Studies Review, 1 March 2011)
"Written by two scholars at the forefront of the study of Japanese religions, this book offers much more than a 'brief history'. It is in fact a very bold and lucid attempt to redraw the parameters that govern our understanding of that elusive body of thought and practice we call Shinto … This book will surprise and on occasion shock; it will surely be required reading for all those interested in Japan and the Japanese."
--Richard Bowring, Professor of Japanese Studies, University of Cambridge
A fascinating guide to the development of Japan's indigenous religion from ancient times to the present day, introducing the myths, sites and rituals of kami worship, and their role in Shinto's emerging religious identity
Offers a unique new approach to Shinto history that combines critical analysis with original research
Examines key evolutionary moments in the long history of Shinto, including the Meiji Revolution of 1868, and provides the first critical history  in English or Japanese of the Hie shrine, one of the most important in all Japan
Traces the development of various shrines, myths, and rituals through history as uniquely diverse phenomena, exploring how and when they merged into the modern notion of Shinto that exists in Japan today
Challenges the historic stereotype of Shinto as the unchanging, all-defining core of Japanese culture