A New Psychotherapy for Traditional Men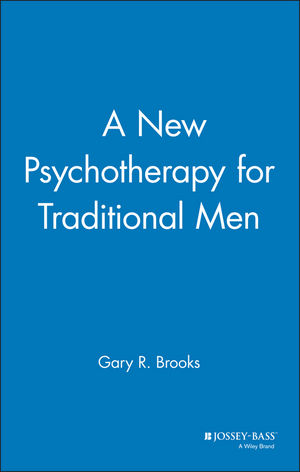 A New Psychotherapy for Traditional Men
ISBN: 978-0-787-94123-9 September 1998 Jossey-Bass 272 Pages
Description
Breaking down the barriers

Most men are trained from earliest childhood to suppressemotional distress, to avoid the subtle signals of interpersonalconflicts, to experience humiliation at the first hint of failure,and most of all, to resist asking for help. In this much-neededbook, Gary Brooks shares his experience of working with resistantmale clients and shows how to overcome this resistance and achievepositive results. Brooks reveals how compassion, respect, empathy,and sensitivity to men's defenses help break down barriers and makethem amenable to the therapeutic process.
Table of contents
Introduction.

1. The Contemporary Crisis of Masculinity: Why Men NeedPsychotherapy.

2. Why Traditional Men Hate Psychotherapy.

3. Core Elements.

4. Doing Men's Groups That Work.

5. Marital and Family Therapy.

6. Therapist Gender.

7. Gender Role Strain in Therapy and Beyond.

References.
Reviews
"A comprehensive, scholarly volume brimming with clinical insightinto the hearts and minds of the traditional blue-collar men he soadroitly treats. . . .offers not only a guide, but inspiration andhope that men whose lives have been badly damaged?men who arelikely to be considered poor risks for therapy?can find significanthelp in the therapy relationship." (Ronald F. Levant, dean, Centerfor Psychological Studies, Nova Southeastern University)

"Carefully weaving the psychological literature together withglimpses into real men's lives, Gary Brooks creates a tapestry ofthe ?new man' that is at once honest, poignant, and our hope forthe future. Millions of men's and women's lives will be enriched byreading this book. I already have a number of traditional men on mygift list." (Lenore Walker, author of The Abused Woman and TheBattered Woman)

"This wonderful book is filled with wisdom and compassion. Itshould be required reading for anyone doing psychotherapy with men;it should be required reading for anyone who is in a relationshipwith a man! It is clear, sensitive, incisive. In a time of genderstrife and misunderstanding, Dr. Brooks provides a beacon of hope."(Judith V. Jordan, assistant professor of psychiatry, HarvardMedical School and training director, Stone Center, WelleslyCollege)