A Peculiar River: Geology, Geomorphology, and Hydrology of the Deschutes River, Oregon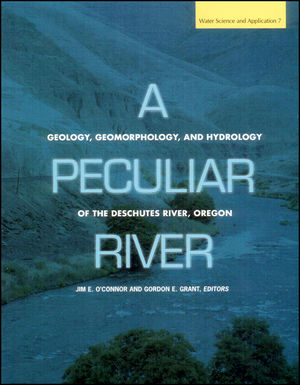 A Peculiar River: Geology, Geomorphology, and Hydrology of the Deschutes River, Oregon
ISBN: 978-0-875-90356-9 January 2003 American Geophysical Union 219 Pages
Description
Published by the American Geophysical Union as part of the Water Science and Application Series, Volume 7.

The Deschutes is a "peculiar" dammed river in Oregon. Its dramatic juxtaposition of geology, topography, and climate presents a virtual textbook of landforms and geomorphic processes revealing Quaternary, Holocene, and very recent events of immense magnitude. Along the active volcanism and tectonism, the present riverine landscape reflects this episodic geomorphic history, as remnants of fluviatle features, huge bars and boulders, mantle the landscape. A Peculiar River: Geology, Geomorphology, and Hydrology of the Deschutes River, Oregon tells a fascinating story about a "striking, sometimes intimidating, landscape that serves to question generalities and is a laboratory in which to study special landforms and the processes that produce them."
Foreword
M. G Wolman vii
Introduction 1
Jim E. O'Connor and Gordon E. Grant
Section I: Geology, Hydrology and Fish of the Deschutes River Basin
Introduction to Section I 5
Overview of Geology, Hydrology, Geomorphology, and Sediment Budget of the Deschutes River Basin, Oregon 7
Jim E. O 'Connor, Gordon E. Grant, and Tana L. Haluska
Groundwater Hydrology of the Upper Deschutes Basin and its Influence on Streamflow 31
Marshall W. Gannett, Michael Manga, and Kenneth E. Lite, Jr.
Controls on the Distribution and Life History of Fish Populations in the Deschutes River: Geology, Hydrology, and Dams 51
Christian E. Zimmerman and Donald E. Ratliff
Section II: The Geomorphology and Flood History of the Lower Deschutes River
Introduction to Section II 71
Quaternary Geology and Geomorphology of the Lower Deschutes River Canyon, Oregon 73
Jim E. O'Connor, JanetH. Curran, Robin A. Beebee, Gordon E. Grant, and Andrei Sarna-Wojcicki
Formation and Evolution of Valley-Bottom and Channel Features, Lower Deschutes River, Oregon 95
Janet H. Curran and Jim E. O'Connor
Holocene Paleoflood Hydrology of the Lower Deschutes River, Oregon 121
Kurt J. Hosman, Lisa L. Ely, and Jim E. O'Connor
The Outhouse Flood: A Large Holocene Flood on the Lower Deschutes River, Oregon 147
Robin A. Beebee and Jim E. O'Connor
Section III: Geomorphic Effects of Dams on the Deschutes and Other Rivers
Introduction to Section III 167
Downstream Effects of the Pelton-Round Butte Hydroelectric Project on Bedload Transport, Channel
Morphology, and Channel-Bed Texture, Lower Deschutes River, Oregon 169
Heidi Fassnacht, Ellen M. McClure, Gordon E. Grant, and Peter C. Klingeman
A Geological Framework for Interpreting Downstream Effects of Dams on Rivers 203
Gordon E. Grant, John C. Schmidt, and Sarah L. Lewis