A Practical Guide to Air Quality Compliance, 2nd Edition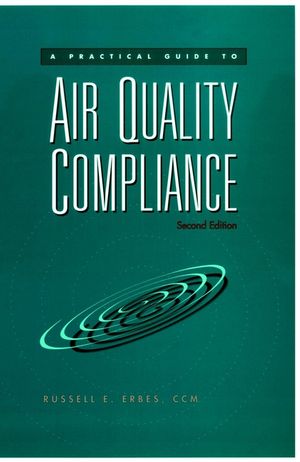 A Practical Guide to Air Quality Compliance, 2nd Edition
ISBN: 978-0-471-15006-0
Apr 1996
464 pages
Description
This easy-to-read guide links the regulatory and technical aspects of air quality compliance in one self-contained volume.

This unique handbook explains air quality compliance in plain language, free of legalese. Russell E. Erbes draws on twenty years of industrial air quality compliance experience as he clarifies the complex regulatory and technical issues facing industry in the wake of the 1990 Clean Air Act Amendments. He guides the reader through a labyrinth of demanding regulations, rising costs, and complex procedures.

A Practical Guide to Air Quality Compliance, Second Edition, sorts through requirements and helps environmental professionals manage compliance effectively and efficiently--whatever the needs of their facilities. Filled with real-world examples that illustrate both problems and solutions, it features:
* Unwritten applicability guidelines known only by technical experts in air compliance.
* Tips on obtaining permits and variances, and monitoring and ensuring compliance.
* Appendices that explain terms, list air toxins and potential health risks, and more.
* Coverage of Title V programs, acid rain provisions, stratospheric ozone protection, atmospheric dispersion modeling, and risk assessment methodologies.
* A chapter on the new criminal and civil penalties for noncompliance.
* A survey of the major differences among federal, state, and local requirements.


For environmental managers and engineers at industrial facilities, environmental consultants and attorneys, and professionals in regulatory agencies, this practical guide removes the guesswork from the air quality compliance process.
History of Air Quality Legislation.

Legislative and Regulatory Concepts.

Ambient Air Quality Standards and Atmospheric Dispersion.

Risk Assessment and Management.

Emission Standards for Criteria Pollutants.

Hazardous Air Pollutants.

New Source Review.

Nonattainment.

Permits and the New National Operating Permits Program.

Acid Rain Provisions of the 1990 CAA.

Stratospheric Ozone Protection.

Enforcement.

Transportation and General Conformity.

Future Implementation of the 1990 CAA.

Summary.

References.

Appendices.

Index.