A Practical Guide to Clinical Virology, 2nd Edition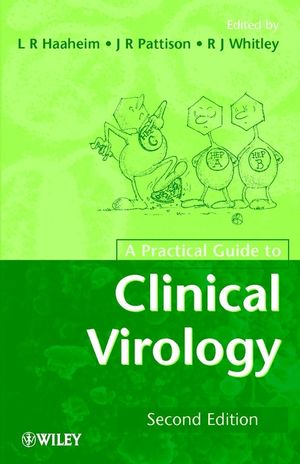 A Practical Guide to Clinical Virology, 2nd Edition
ISBN: 978-0-470-85687-1
Apr 2003
306 pages
Description
This Second Edition of A Practical Guide to Clinical Virology is a practical, highly illustrated, quick reference guide to clinical virology. It brings together the essentials of the subject in a entertaining and informative style, describing in turn the clinical features, the symptoms and signs of each of the viral diseases, as well as summarising the epidemiology, laboratory diagnosis and therapy in each case. This book also includes general chapters on classification, diagnosis of infection, antiviral drugs, vaccines and different clinical syndromes.

Key Features:
Chapter summaries for quick reference
Cartoon illustrations
Comprehensive coverage
Clear and concise format
Each chapter is easy to read and well organised, ensuring that this is an invaluable textbook for all medical, biomedical, microbiology and applied biology students. In addition, it provides an excellent reference for nurses, occupational health and infection control departments, public health and diagnostic laboratories.
Contributors ix
Preface xi
Preface to 1st Edition xiii
Abbreviations xv
References for Further Reading xvii
1 Classification and Nomenclature of Human and Animal Viruses 1
Y. Ghendon
2 Viruses and Disease 7
G. Haukenes and J. R. Pattison
3 Laboratory Diagnosis of Virus Infections 15
G. Haukenes and R. J. Whitley
4 Antiviral Drugs 21
J. S. Oxford and R. J. Whitley
5 Virus Vaccines 37
L. R. Haaheim and J. R. Pattison
6 Enteroviruses: Polioviruses, Coxsackieviruses, Echoviruses and Newer Enteroviruses 45
A. L. Bruu
7 Polioviruses 47
A. L. Bruu
8 Coxsackieviruses, Echoviruses and Enteroviruses 29–34 and 68–71 55
A. L. Bruu
9 Rhinoviruses and Coronaviruses 61
I. Ørstavik
10 Influenzaviruses 67
L. R. Haaheim
11 Parainfluenzaviruses 75
A. B. Dalen
12 Mumps Virus 81
B. Bjorvatn and G. Haukenes
13 Respiratory Syncytial Virus (RSV) 89
G. Ånestad
14 Measles Virus 97
N. A. Halsey
15 Rubella Virus 105
G. Haukenes
16 Adenoviruses 113
I. Ørstavik and D. Wiger
17 Rotaviruses 121
I. Ørstavik and E. Kjeldsberg
18 Herpes Simplex Virus (HSV1 and HSV2) 127
E. Tjøtta and G. Hoddevik
19 Varicella-Zoster Virus (VZV)—Varicella 137
A. Winsnes and R. Winsnes
20 Varicella-Zoster Virus (VZV)—Zoster 145
A. Winsnes and R. Winsnes
21 Cytomegalovirus (CMV) 149
A. B. Dalen
22 Epstein–Barr Virus (EBV) 157
E. Tjøtta
23 Human Herpesvirus 6 (HHV-6) 167
J. A. McCullers
24 Hepatitis A Virus 173
M. Degré
25 Hepatitis B Virus 179
G. L. Davis
26 Hepatitis C Virus 185
G. L. Davis
27 Hepatitis D Virus 191
G. L. Davis
28 Hepatitis E Virus 195
M. Degré
29 Emerging Hepatitis Viruses 201
G. L. Davis
30 Parvovirus B19 203
J. R. Pattison
31 Retroviruses 209
A. B. Dalen
32 Human Immunodeficiency Virus (HIV) 213
B. Asjö
33 Human T-Cell Lymphotropic Virus Type I and II 221
R. J. Whitley and G. Shaw
34 Tick-borne Encephalitis (TBE) Virus 227
T. Traavik
35 Hantaviruses—HFRS and HPS 235
D. Wiger
36 Haemorrhagic Fever Viruses 241
G. Haukenes
37 Rabies Virus 245
B. Bjorvatn and G. Haukenes
38 Human Papillomavirus (HPV) 251
T. Traavik
39 Human Polyomaviruses 259
T. Traavik
40 Slow Viruses 263
G. Haukenes
41 Poxviruses 267
G. Haukenes
42 Clinical Syndromes 271
G. Haukenes and J. R. Pattison
Index 277
All Editors/Authors are well respected within their field.
Contributions by UK, European and US authors.
Covers a wide range of clinical virology, with essential points highlighted.
Excellent student revision text.
Each chapter is summerised by a relevant cartoon, which aides revision.