A Practical Guide to Job Analysis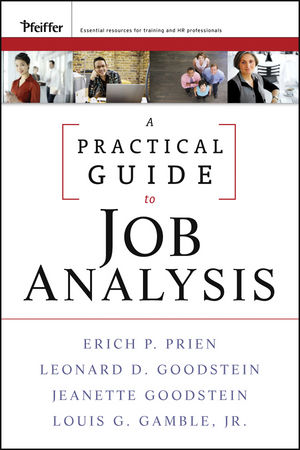 A Practical Guide to Job Analysis
ISBN: 978-0-470-44424-5 March 2009 Pfeiffer 288 Pages
Description
Presenting the first book that provides HR professionals with a context for understanding the importance of doing a proper job analysis together with a step-by-step guide to conducting such an analysis. This unique guide contains a series of eight ready-to-use templates that provide the basis for conducting job analyses for eight different levels of job families, from the entry-level to the senior manager/executive.
Preface xi
1. An Introduction to Job Analysis 1
Why Do We Analyze Jobs?
The Hiring Process
The Human Capital Life Cycle
Job Analysis
Recruitment
Screening
Final Selection
Job Orientation
Training and Development
2. What Is a Job Analysis? 11
Defining Job Analysis
Applications of Job Analyses
Recruitment
Candidate Selection
Employee Training and Development
Performance Management
Organizational Management and Planning
Litigation Protection
Elements of a Job Analysis
Work Activity (WA)
Knowledge, Skills, and Ability (KSA)
Levels of Job Performance
Workplace Characteristics
3. How to Conduct a Job Analysis 27
Methods of Job Analysis
Self-Reports
Direct Observations
Interviews
Document Reviews
Questionnaires and Surveys
Caveats and Cautions
Changes Over Time
Low Accuracy
Lack of Stability
4. The Job Analysis Templates 39
The Development of the Templates
Eight Templates for Job Analysis
Entry-Level Job Analysis Template (Appendix B)
Production Operations Job Analysis Template (Appendix C)
Clerical Job Analysis Template (Appendix D)
Sales and Sales Management Job Analysis Template (Appendix E)
Clerical/Administrative Services Job Analysis Template (Appendix F)
Professional Administrative Job Analysis Template (Appendix G)
Supervisory/First-Line Manager Job Analysis Template (Appendix H)
Senior Management/Executive Job Analysis Template (Appendix I)
Using the Templates
Completing the Summary Forms
Summary of Work Activity Importance Ratings
5. The Workplace Characteristics Profile 53
Organizational Culture and Climate
Organizational Culture
Organizational Climate
The Workplace Characteristics Profile

Developing the WCP
Administering the WCP
Interpreting the WCP
6. Establishing Job Performance Levels 63
Competencies and Jobs
The Uses of Job Performance Data
Recruitment
Creating Career Ladders
Evaluating Organizational Performance
Improving Organizational Performance
Methods for Measuring Job Performance
Objective Measures
Subjective Measures
Problems with Performance Ratings
Behaviorally Anchored Rating Scales (BARS)
How to Implement the BARS Method
A Recommended Shortcut
Applying the BARS Method
BARS and the Hierarchy of Jobs
Concerns About BARS
A Summary of the Job Analysis Process
References 85
Appendices∗
Appendix A: Sample Job Description 89
Appendix B: Entry-Level Job Analysis Templates 93
Appendix C: Production Operations Job Analysis
Templates 105
Appendix D: Clerical Job Analysis Templates 121
∗All Appendices are available for free download at www.pfeiffer.com/go/LeonardGoodstein
Appendix E: Sales and Sales management Job Analysis Templates 135
Appendix F: Clerical/Administrative Services Job Analysis Templates 151
Appendix G: Professional Administrative Job Analysis Templates 169
Appendix H: Supervisor/First-Line Manager Job Analysis Template 183
Appendix I: Senior Management/Executive Job Analysis Templates 195
Appendix J: Summary of Importance of Work Activities and Competencies 215
Appendix K: Workplace Characteristics Profile 249
Index 259
About the Authors 265