A Practical Handbook for Community Health Nurses: Working with Children and Their Parents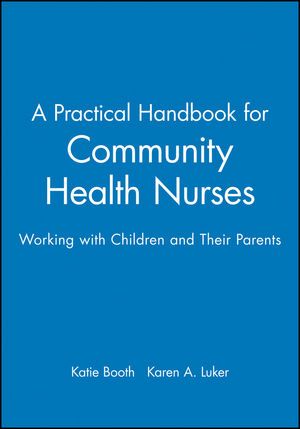 A Practical Handbook for Community Health Nurses: Working with Children and Their Parents
ISBN: 978-0-632-04246-3
Jun 1999, Wiley-Blackwell
212 pages
Description
This practical handbook focuses on promoting the health of children in the community by considering the health needs of the healthy child in the context of a family unit. Containing up-to-date, research-based material, the book reflects the developing role of the community nurse and draws together the experience of experts in a wide range of community teaching and practice. The key areas of concern in relation to health issues surrounding children are dealt with in detail. The book includes both physical needs (ie, nutrition, immunisation, infection and dental health] and psychological issues [ie, development, behaviour, children at risk]. This is an essential resource for all community health-care nurses in practice or training.
Contributors.
Preface.
Introduction The Changing Context of Community Health Nursing.
Part 1 The Child and the Family.
Chapter 1 Families and Social Policy.
Chapter 2 The Developing Child,.
Chapter 3 Promoting Psychological Health: A Focus on Children within Families.
Chapter 4 Caring within Families.
Chapter 5 Post-Natal Depression: Minimising the Impact.
Chapter 6 The Child at Risk: Working with Families and the Child Protection System.
Part 2 The Child and Nutrition.
Chapter 7 Breast Feeding: The Art and Science.
Chapter 8 Infant Feeding and Early Weaning: Prinicples and Practice.
Chapter 8 Nutrition in Childhood: Advice and Dilemmas.
Chapter 10 Dental Health: A Practical Guide to Preventative Dentistry.
Part 3 Common Problems in Childhood.
Chapter 11 Immunisation and Prevention: An Up-to-Date Perspective.
Chapter 12 Managing Infections: How to Help Parents.
Chapter 13 Managing Atopic Eczema: Evidence and Issues.
Chapter 14 Sleep Disorders in the Pre-school Child: How the Health Professionals Can Help.
Chapter 15 Toilet Training and Related Issues: Anticipatory Help for Parents and Families.
Index
* addresses common issues which concern parents and professionals alike
* reflects current developments in community nursing practice
* draws on a practical approach, based on current evidence-based practice
* contains summaries and illustrations to inform practitioners'care
* a companion text to Kenrick & Luker: Clinical Nursing Practice in the Community