A Practice Manual for Community Nursing in Australia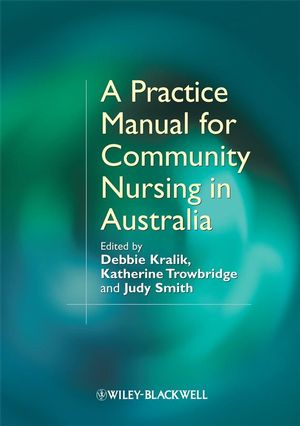 A Practice Manual for Community Nursing in Australia
ISBN: 978-1-405-15964-7 October 2008 Wiley-Blackwell 520 Pages
Description
'A Practice Manual for Community Nursing in Australia' is an evidence-based practice companion for community nurses. It has been specifically developed for Australian nursing students and community nurses practising within the Australian community health care context because community nursing practice requires unique ways of knowing, understanding and practicing. Focussing on the common elements of community nursing practice and framed by primary health care principles, best practice is promoted through the inclusion of guidelines to assist decision making and the detailed descriptions of procedures commonly performed in community health care delivery.

The editors and contributors highlight key challenges in Australian community nursing practice, including the reality of the community care environment and the potential boundaries. Insight is provided into practice issues including informed consent, clinical governance, risk and incident management, infection control, disaster response; assessment and documentation practices, manual handling, clinical competency and client education.

Editors:

Debbie Kralik is Director of Research, Royal District Nursing Service, South Australia.
Katherine Trowbridge is Research Associate, Royal District Nursing Service, South Australia.
Judy Smith is Executive Director of Nursing and Client Services, Royal District Nursing Service, South Australia.
Table of contents
List of contributors vii
Preface xi
Acknowledgements xiv
1 Approaches to community nursing care 1
Antonia van Loon
2 Clinical governance 20
Anne Maddock
3 Informed consent 33
Elizabeth Crock
4 Assessment 52
Lisa Turner, Julianne Siggins and Stephen Harding
5 Incident management and mandatory reporting 76
Anne Maddock and Katherine Trowbridge
6 Community infection control and prevention practice 94
Ramon Shaban and Belinda Henderson
7 Disaster planning and management 109
Paul Arbon
8 Care of people with chronic conditions 128
Debbie Kralik
9 Mental health 149
Janette Curtis, Yvonne White and Jennifer Harland
10 Addiction and homelessness 166
Janette Curtis, Jennifer Harland and Yvonne White
11 Continence 184
Norah Bostock and Carolyn Roe
12 Diabetes care 215
Jane Giles, Kate Visentin and Pauline Hill
13 Vascular access device management in the community 240
Lisa Turner
14 Child and maternal health 260
Gay Edgecombe, Creina Mitchell and Irene Ellis
15 Medication support 291
Katherine Trowbridge
16 Nutritional support 312
Elaine Tooke and Scott King
17 Caring for older people 337
Megan O'Donnell, Rhonda Nay and Margaret Winbolt
18 Palliative care 362
Cathy Bennett and Dianne Roughton
19 Personal care 396
Scott King and Elaine Tooke
20 Stoma care 416
Carmen George
21 Wound management 436
Sue Templeton
22 Systemic reactions and anaphylaxis 461
Deryn Thompson, Kate Visentin and Colleen Smith
23 New and emerging technologies 479
Moya Conrick
Index 497
Features
A Practice Manual for Community Nursing in Australia:


Is a practical companion text for "Community Nursing in Australia"

Includes evidence-based practice principles and guidelines for community nursing

Is based on latest research relevant to community practice

Provides guidance for students, novice and expert nurses

Is authored by Australian nurses for Australian community nurses

Explores rural and remote influences

Adopts a multicultural focus