A Primer to Postmodernity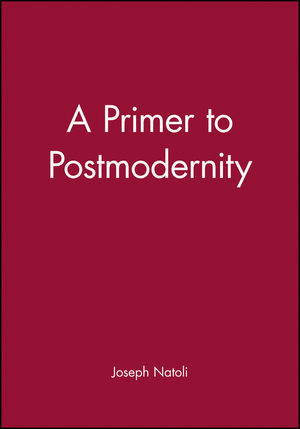 A Primer to Postmodernity
ISBN: 978-1-577-18061-6 December 1997 Wiley-Blackwell 224 Pages
Download Product Flyer
Download Product Flyer
Download Product Flyer is to download PDF in new tab. This is a dummy description. Download Product Flyer is to download PDF in new tab. This is a dummy description. Download Product Flyer is to download PDF in new tab. This is a dummy description. Download Product Flyer is to download PDF in new tab. This is a dummy description.
Description
A Primer to Postmodernity introduces the general reader to an emerging 'postmodern' world order by giving us `just the facts` through contemporary cultural lenses.
Table of contents
To The Reader.
1. Is This a Postmodern World?.
2. How Do We Create a Sense of Realism? Or, Do We Just Discover it?.
3. Classic Realist Formulas in Action: Film.
4. Go To Citizen Kane to Find 20th Century Modernism...
On the Edge of Postmodernity.
5. Moving Across the Profound Surface of a Postmodern Life.
6. Yes, There is a Postmodern Political Struggle.
7. Postmodernity's and the Market.
8. Meditating on Postmodern Ethics and Religion.
9. Facing the Monsters: History in the Hands of Postmodernists.
10. Enacting the Postmodern: The Primer's Glossary of Cultural Studies.
Index.
Reviews
"The author has produced an international book 9with one or two excepted examples) which discusses the meaning of Citizen Kane and eventually ponders the question: Is Seinfeld post-modern? The answer to this question and many more are lucidly given in this book which is great fun to read. as a primer, readers are encouraged to start here and then go straight to the key thinkers: Natoli provides a list of all significant anthologies and works to date."
Bookends 1998
" It is a fascinating text for a number of reasons. First of all, it's fun and innovative. Second, it is deceptive, a scholarly text posing as a funzine; examined closely, the discussion reveals itself to be crammed with information and central points of debate about postmodernism as a critical theory, as a cultural moment, and as epistemology." Amy J. Elias, University of Alabama, Birmingham

"Those of us who have been attempting to teach postmodernism to undergraduates have long felt the need for a truly introductory text: a text that isn't something else ("theory' in general), a text that is clearly intended for previously unexposed students rather than overexposed scholars, a text that doesn't fail to explain postmodernity even while participating in its complexities. Joseph Natlaoi's A Premier to Postmodernity fills this need admirably." Calvin Thomas, University of Northern Iowa

"Natoli's book delivers on its promise of being a 'primer' for students. This book is well written, its prose is accessible and engaging, generally free of arcane jargon. Students will warm up to the dialogue format and the references to popular culture and media forms." Lawrence Hatab, Old Dominion University

" Natoli's A Primers to Postmodernity is accessible without being patronizing and positioned without pretending to neutrality. He obviously had fun writing some of these paradigmatic conversation sections and his enjoyment is contagious." Victoria F. Harris, Illinois State University
Features
* Clearly intended for students who have had no exposure to postmodern theory; witty, accessible and engaging style.
* Illustrates elements of postmodernity through current examples in popular culture and politics.
* Makes the connection between postmodern theory and cultural studies.