A Social History of British Broadcasting: Volume 1 - 1922-1939, Serving the Nation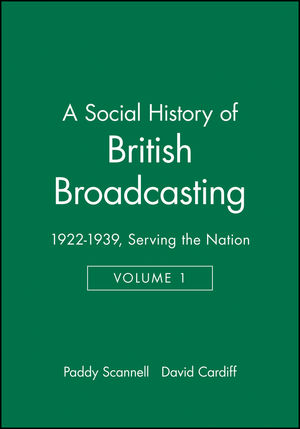 A Social History of British Broadcasting: Volume 1 - 1922-1939, Serving the Nation
ISBN: 978-0-631-17543-8 August 1991 Wiley-Blackwell 476 Pages
Description
This is a history of broadcasting and its impact on modern life in Britain from its origins in the 1920s to the outbreak of the Second World War. Its concerns are with programmes and their makers and with the audiences for which they were made. It is a pioneering work of cultural and social history.
Table of contents
Preface.
Introduction.
1. Public Service Broadcasting part 1.
Part I: Broadcasting and Politics: .
2. The Containment of Controversy.
3. The Management of News and Political Debate.
4. Broadcasting and Unemployment.
5. Broadcasting and Foreign Affairs.
Part II: The Production of Information: News, Features and Talks:.
6. News Values and Practices.
7. Features and Social Documentaries.
8. Forms of Talk.
Part III: The Production of Entertainment and Culture: Music and Variety:.
9. Music Policy.
10. Musical Tastes.
11. Time and Money, Entertainment and Culture.
12. Styles of Variety.
Part IV: Broadcasting and its Audiences:.
13. The National Culture.
14. Local and Regional Broadcasting.
15. Manchester and its Programmes.
16. The Listener.
Bibliography and References.
Footnotes.
Reviews
"Their work promises to change irreversibly our perception of both the history of British broadcasting and of its place in the wider political, cultural and social history of Britain."
Sight and Sound
"This admirably balanced new study . . . deserves the attention of lay readers as well as scholars . . an important piece of work." The Independent on Sunday
". . . an impressive volume . . . informed by concepts." The Guardian
"This is a quite outstanding book: a social history of radio broadcasting in Britain up to 1939. It is a work of sustained scholarship but, although more that 150,000 words long, an immensely enjoyable read." Tom Nossiter, London School of Economics.
" A truly magisterial work, unlikely to be bettered for a generation." Screen
Features
* Pioneering history based on extensive research in the BBC archives.
* Scholarly but pre-eminently readable.
* Illustrated with photographs from the BBC archives and from contemporary magazines.