A Social History of Knowledge II: From the Encyclopaedia to Wikipedia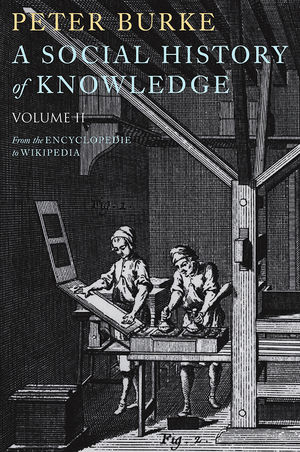 A Social History of Knowledge II: From the Encyclopaedia to Wikipedia
ISBN: 978-0-745-65042-5 January 2012 Polity 248 Pages
Description
Peter Burke follows up his magisterial Social History of Knowledge, picking up where the first volume left off around 1750 at the publication of the French Encyclopédie and following the story through to Wikipedia. Like the previous volume, it offers a social history (or a retrospective sociology of knowledge) in the sense that it focuses not on individuals but on groups, institutions, collective practices and general trends.

The book is divided into 3 parts. The first argues that activities which appear to be timeless - gathering knowledge, analysing, disseminating and employing it - are in fact time-bound and take different forms in different periods and places. The second part tries to counter the tendency to write a triumphalist history of the 'growth' of knowledge by discussing losses of knowledge and the price of specialization. The third part offers geographical, sociological and chronological overviews, contrasting the experience of centres and peripheries and arguing that each of the main trends of the period - professionalization, secularization, nationalization, democratization, etc, coexisted and interacted with its opposite.

As ever, Peter Burke presents a breath-taking range of scholarship in prose of exemplary clarity and accessibility. This highly anticipated second volume will be essential reading across the humanities and social sciences.
List of Figures vi
Acknowledgements viii
Introduction 1
Part I Knowledge Practices 9
1 Gathering Knowledges 11
2 Analysing Knowledges 50
3 Disseminating Knowledges 85
4 Employing Knowledges 109
Part II The Price of Progress 137
5 Losing Knowledges 139
6 Dividing Knowledges 160
Part III A Social History in Three Dimensions 185
7 Geographies of Knowledge 187
8 Sociologies of Knowledge 218
9 Chronologies of Knowledge 247
Notes 276
References 300
Index 335
"A glittering cabinet of intellectual curiosities, a systematic study of the collecting, analysing, disseminating, storing, accessing, using and losing of knowledge in the western world from the mid-18th century to the 'information overload' of today ... Within this treasure chest there beats an endearingly human heart; one warms to an exemplary scholar who expresses the earnest hope that readers 'will not feel that I have contributed to information overload as well as discussing it'."
History Today
"In this remarkable tour de force Peter Burke paints a big picture of the history of knowledge in the West since 1750. His expert synthesis, which includes many kinds of general facts and figures, delves with nuance into counter-trends as well as trends and highlights a wealth of telling examples from a vast range of places and fields of academic and government inquiry. An invaluable guide for expert and novice alike."
Ann Blair, Harvard University
"Written with the ease of erudition, A Social History of Knowledge II is at once a thought-provoking essay on the character of our information age and a new cartography of its many territories. From agrochemistry to zoology, fingerprints to filing cabinets, it is encyclopedic, curious, and exhilarating to read."
Daniel Rosenberg, University of Oregon
Sequel to the magisterial Social History of Knowledge, this second edition follows the story from the 1750 publication of the French Encyclopedie to Wikipedia.
The book is awe-inspiring in both the breadth and range of its contents.
Divided into three parts, each a model of clarity and accessibility.