A Social History of the Laboring Classes: From Colonial Times to the Present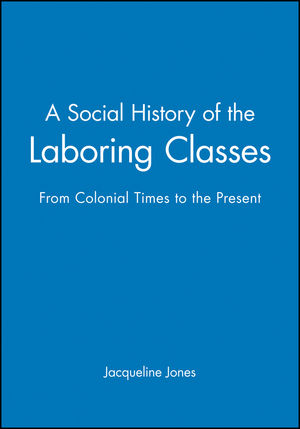 A Social History of the Laboring Classes: From Colonial Times to the Present
ISBN: 978-0-631-20770-2 January 1999 Wiley-Blackwell 256 Pages
Description
In this concise historical narrative, Jacqueline Jones provides a sweeping account of the most significant aspect of nearly every American's life.
Table of contents
Introduction.
1. 'Strangers' and Other Workers in the Seventeenth-Century Colonies.
2. 'Be Sure to Come Free': Workers in the Eighteenth Century.
3. Crosscurrents of Slavery and Freedom in the Antebellum South.
4. The Northern Laboring Classes at Odds With One Another, Before and During the Civil War.
5. Ideologies of Race in a Modernizing Economy: The Cases of African-American and Chinese Workers.
6. The Laboring Chattering Classes in Turn-of-the-Century America.
7. The Rise of the State in Depression and War: The American Workforce, 1916-1945.
8. American Workers and the New World Order in the Second Half of the Twentieth Century.
Index.
Reviews
"Jacqueline Jones is one of the nation's finest historians of race, class and culture and any project she turns her hand to is must reading for all those who claim to participate in the intellectual life of our times."
Nelson Lichtenstein, University of Virginia
<!--end-->
"The explosion of scholarship in the field of labor history over the past twenty years has defied synthesis - until now. Jacqueline Jones has moved the diverse experiences of America's multicultural working class to the front and center of the national historical narrative. No other book so effectively brings the voices and struggles of working people together as does A Social History of the Laboring Classes." Alex Lichtenstein, Florida International University

" Recent research in labor and working-class history that is staggering in scope. Recommended for all levels of college reader." D. Lindstrom, University of Wisconsin, Madison

"A lively text grounded solidly in the latest research." Labour History Review
Features
* Takes a sweeping account of labor history from a social perspective from colonial times to the present, chronologically arranged.
* Addresses black, white, native American, male, female, adult and child labor into a single volume.
* Incorporates narratives of individual workers to provide compelling personal accounts of the workers' actual experience.