A Social History of the Media: From Gutenberg to the Internet, 3rd Edition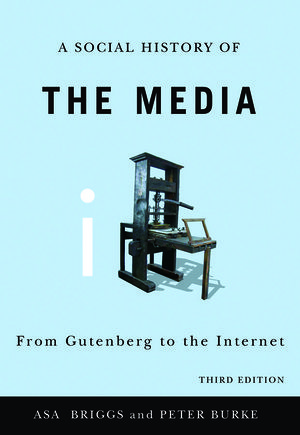 A Social History of the Media: From Gutenberg to the Internet, 3rd Edition
ISBN: 978-0-745-64494-3
Jan 2010, Polity
320 pages
Description
Written by two leading social and cultural historians, the first two editions of A Social History of the Media became classic textbooks, providing a masterful overview of communication media and of the social and cultural contexts within which they emerged and evolved over time.

This third edition has been thoroughly revised to bring the text up to date with the very latest developments in the field. Increased space is given to the exciting media developments of the early 21st Century, including in particular the rise of social and participatory media and the globalization of media. Additionally, new and important research is incorporated into the classic material exploring the continuing importance of oral and manuscript communication, the rise of print and the relationship between physical transportation and social communication.

Avoiding technological determinism and rejecting assumptions of straightforward evolutionary progress, this book brings out the rich and varied histories of communication media. In an age of fast-paced media developments, a thorough understanding of media history is more important than ever, and this text will continue to be the first choice for students and scholars across the world.
List of Illustrations
Preface
1 Introduction
2 Printing in its Contexts
3 The Media and the Public Sphere in Early Modern Europe
4 Technologies and Revolutions
5 New Processes and Patterns
6 Information, Education, Entertainment
7 Media Convergences
8 In and Out of Cyberspace
Chronology
Further Reading
'Media history may be the single most important chapter of human history. If we want to understand wars, revolutions, religions, and intellectual movements, then we must ultimately confront the question "Who communicated what to whom -- and how?" For both students and specialists, Briggs and Burke have produced the most comprehensive and concise synthesis of what we know about this subject.'
Jonathan Rose, Drew University

'A Social History of the Media is the best synthetic overview of media history available, and is deservedly becoming the standard introduction to its topic. Far more than any competing textbook, this book thoroughly integrates the development of the mass media into the wider fabric of social, cultural, economic, and political history.'
Mark Hampton, Lingnan University and co-editor of Media History

'A richly informative account of developments from Gutenberg to Google by two of Britain's leading social and cultural historians. Highly recommended as a source book for all students of media.'
Paddy Scannell, University of Michigan

Third edition of one of Polity's best-selling textbooks
Written by two of the world's leading social and cultural historians
Is the fullest revision to date, based on an extensive process of consultation with adopters and those using other texts
The coverage of new media technologies, industry convergence and global media has been especially extended
Provides a historical contextualisation of new media developments and highlights continuities as well as new trends.
In an age of fast-paced media developments, a thorough understanding of media history is more important than ever and this book is therefore suited to a wide range of courses, not only those focusing on history.