A Sociology of Family Life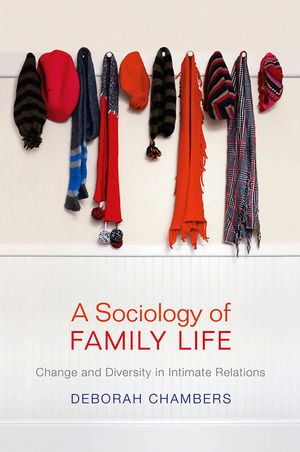 A Sociology of Family Life
ISBN: 978-0-745-64779-1 May 2012 Polity 256 Pages
Description
New kinds of intimate relationships such as post-divorce families, co-habiting couples, 'friends as family' and same-sex unions are now commonplace. This book explores the growing diversity of family life by presenting a comprehensive assessment of recent research and theory, and foregrounds new thinking about 'family', parenting, childhood and personal life.
A Sociology of Family Life queries notions of moral decline by revealing a remarkable persistence of commitment and reciprocity across cultures in traditional and new family relations. This insightful and innovative work examines factors such as gender, race, ethnic identity and new sexual lifestyles in relation to cultural customs, government policies and social inequalities.
Global dimensions of intimate life are explored, including the impact of population policies on fertility in several nations; ethical dilemmas associated with reproductive technologies among different cultures; interdependencies between rich and poor nations through the globalization of domestic care; and transnational marriage strategies. This book will be indispensable for students across the social sciences interested in change in intimate relations.

Selected by Choice as a 2013 Outstanding Academic Title
Table of contents
Acknowledgements page viii
Introduction 1
1 Traditional Approaches to the Family 14
Late nineteenth-century sociological perspectives 15
Engels: family, private property and the state 18
The twentieth-century functional family 20
Companionate marriage 23
Community and kinship studies 25
Constructions of race in family studies 26
Feminism and families 29
Conclusions 32
2 Individualization, Intimacy and Family Life 34
Individualization and changing families 35
Doing and displaying families 41
'Unconventional' family relationships 45
Same-sex intimacies and families of choice 47
Minority ethnic kinship ties 51
Conclusions 53
3 Parenting Practices and Values 55
Changing ideas about parenthood 55
Morality and motherhood 58
Teenage mothers 62
Traditional and new models of fatherhood 64
Fatherhood after divorce 67
Minority ethnic parenting 68
Gay and lesbian parenting 71

Conclusions 73
4 The Changing Nature of Childhood 76
Past ideas about childhood 77
Children's agency 78
Children and divorced families 81
Childhood, consumption and class 83
Children, new media and the home 88
The privatization of childhood 90
Conclusions 92
5 Families and Ageing Societies 94
Changing dynamics of ageing and family life in western societies 95
Older people and patterns of family support 96
Gender differences among older people 101
Same-sex relationships among older people 102
Globalization, old age and traditional kinship customs 105
Conclusions 111
6 Globalization, Migration and Intimate Relations 114
Gendered migration patterns 115
Globalization, migration and family care 116
Marriage strategies and mobility 122
Commercially negotiated marriage 124
Sustaining cultural traditions in diasporic settings 127
Internet dating and 'mail-order brides' 129
Conclusions 132
7 Families, Fertility and Populations 135
Governments and family planning 135
Romania's pro-natalist policy under Ceausescu 137
India's preference for sons 140
China's 'one-child' policy 145
Demographic defi cit in developed nations 149
Conclusions 152
8 Families and New Reproductive Technologies 154
Assisted conception and relatedness 155
Approaches to new reproductive technologies 156
Donor insemination and the regulation of families 159
Views on infertility treatment among the South Asian diasporas 163
Donor technologies in the Muslim Middle East 166
Commercial surrogacy in India 169
Conclusions 172
9 New Directions: Personal Life, Family and Friendship 174
The politics of family values 175
Family diversity and personal life 179
Friends and personal communities 182
New intimacies 184
Global and economic dimensions of intimacy and family 187
Notes 191
Bibliography 193
Index 230
Reviews
'This book covers an impressive amount of ground both geographically and in terms of topics. Stressing the themes of diversity and the need to take a global perspective in family studies, Deborah Chambers provides authoritative and lucid insights into some urgent scholarly and political debates. This is a family text for our times.'
David H. J. Morgan, University of Manchester
'This is a terrific book. It aptly demonstrates just how much families have changed even as it demonstrates that care and connection remain central aspects of the personal communities individuals construct. In addition, the author uses fascinating cross-cultural examples to shake complacency about which way is best. It is a perfect choice for courses on the sociology of the family.'
Margaret K. Nelson, Middlebury College
'A Sociology of Family Life is an excellent text. Well structured and clearly written, the book will appeal to a wide range of students taking family sociology modules. It lucidly introduces readers to contemporary debates within the sociology of the family, expressing complex themes in a coherent and accessible fashion.'
Graham Allan, Keele University
Features
Explores the growing diversity of family life and new sociological thinking about 'family', parenting, childhood and personal life.
Presents a comprehensive assessment of recent research and theory.
Examines factors such as gender, race, ethnic identity and new sexual lifestyles in relation to cultural customs, government policies and social inequalities.
Includes global dimensions of families in the 21st century, taking in different national and cultural perspectives.