A Spiritual Audit of Corporate America: A Hard Look at Spirituality, Religion, and Values in the Workplace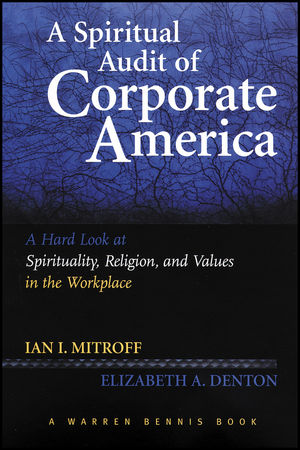 A Spiritual Audit of Corporate America: A Hard Look at Spirituality, Religion, and Values in the Workplace
ISBN: 978-0-787-94666-1
Oct 1999, Jossey-Bass
288 pages
Product not available for purchase
Description
This first-ever survey of spiritual beliefs and practices among managers and executives finds that, while most people have strong spiritual beliefs, few feel that they can act on those beliefs at work. And yet, overall company performance is actually higher in companies where company values and spiritual values coalesce. Filling a gap in today's literature on spirituality and business, this book examines five proven models for introducing spirituality to the workplace and spells out the strengths and weaknesses of each model. More than a personal guide to spiritual well-being, it shows how you can harness the immense spiritual energy at everyone's core, and outlines solutions for bringing that energy into the organization.
Foreward.
Preface.
Part One: Acknowledging Soul and Spirit.
1. Park It at the Office Door: The Unacknowledged Soul of Corporate America.
2. A Strange but Formidable Alliance: Barriers to Studying and Defining Spirituality.
Part Two: Auditing Soul and Spirit.
3. The Divided Soul of Corporate America.
Part Three: Models for Fostering Spirituality.
4. Taking Over Your Company for Christ: The Religion-Based Organization.
5. Called to Spirituality: The Evolutionary Organization.
6. Shaking Off Addiction: The Recovering Organization.
7. For the Betterment of Society: The Socially Responsible Organization.
8. We Are Family! The Values-Based Organization.
Part Four: A Plan for Spiritual Development.
9. A Best-Practice Model.
Appendix A: A Questionaire on Meaning and Purpose in the Workplace.
Appendix B: Selected Quantitative Results.
Appendix C: Detailed Dimensions of the Five Models.
Notes.
The Authors.
Index.