A Theory of Poverty and Social Exclusion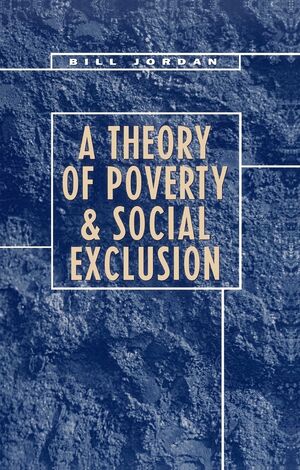 A Theory of Poverty and Social Exclusion
ISBN: 978-0-745-61694-0
Aug 1996, Polity
288 pages
Description
Bill Jordan seeks to fill a gap in social scientific theory by accounting for why a deterioration in the living standards of the worst-off members of societies tends to coincide with the resurgence of free-market utopianism as a political creed.
1. Introduction: The Great Exclusion?.
2. Interdependency and Collective Action.
3. Missing Links.
4. Globalization and the Fragmentation of Welfare States.
5. Community, Polarization and Social Exclusion.
6. The Politics of Enforcement.
7. Conclusions: States and Social Policy.
Bibliography and Sources.
Index.
"With the burgeoning of research and debates on social exclusion, Bill Jordan's book provides a much-needed theory of poverty and social exclusion based not on the relativity of deprivation but on the social and economic relations of power in contemporary industrialized welfare societies."
Fiona Williams, University of Leeds
"In this book Bill Jordan draws on a rich mix of sources, including public choice theory and his own work on the strategies of excluded households, to shake up tired theories of poverty and to throw light on the future of social policy in the US and Britain (with glances towards Eastern Europe). It is an exhilarating book: learned but impatient, pessimistic but inspiring. An honest attempt to make sense of the turmoil that is social policy today." Ian Gough, University of Bath
"This is an important book which makes a valuable contribution to the theoretical debate about poverty and social exclusion. One of the main strengths of this work is its interdisciplinary focus ... this book is a valuable addition to the study of poverty and it is likely to stimulate much debate." British Journal of Sociology
"This is an ambitious book which attempts to chart an entirely new course for studies of poverty and social exclusion. There is much to admire in this book. It takes a fresh and illuminating approach which enables a number of important points to be made about the choices facing both individuals and society as a whole. The global and European perspective adds depth to the argument and is also interesting in its own right. I would certainly recommend the book to anyone interested in moving beyond the rather tired circles of debates about poverty and/or social exclusion." Critical Social Policy
"The theory is ... original and stimulating and appears to be substantially different from previous theories ... This is a highly stimulating book which often provokes and irritates but never bores the reader." Journal of European Social Policy
Highly original account of poverty and its prime sources
Draws on a wide range of examples from diverse countries
Develops a novel theory of poverty and social exclusion which will become a key reference point in all subsequent discussions.