A View of the State of Ireland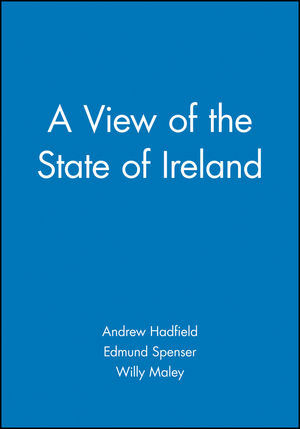 A View of the State of Ireland
ISBN: 978-0-631-20535-7
Oct 1997, Wiley-Blackwell
228 pages
Description
This student edition is based on the first published text and offers an authoritative introduction, discussing the View's reception, relating it to Spenser's corpus as a whole, and summarising recent scholarship.
Acknowledgements.
Framework of Events.
Introduction.
Map.
A View of the State of Ireland, written dialogue-wise.
Between Eudoxus and Irenaeus.
Notes.
Appendix One: Wares Notes.
Appendix Two: Guide for Further Reading.
Appendix Three: Passages Omitted from Wares Text.
Glossary.
Index.
"It will certainly be good to have an easily available and affordable version of the
Vewe
, and this volume has several virtues which will recommend it to students and teachers of Spenser and related topics. It will certainly further Spenser studies, especially among undergraduates, to have this user-friendly edition available, and the editors and publisher are to be congratulated on its appearance."
Spenser Newsletter 28, 2 (1997)

"This timely edition of Spenser's infamous prose treatise about Ireland... which .includes a judicious introductory essay outlining the current state of critical debate about Spenser, a chronology of his life, a glossary, and an annotated bibliography, goes a long way towards redressing ill-informed suppositions about this sixteenth-century dialogue. The edition has the further virtue that it does not overwhelm the text with commentary or annotation. This deft, informative and user-friendly edition of A View of the State of Ireland persuasively urges us not just to read Spenser's text in the first instance but to give full consideration to the historical and political contexts and epistemological frameworks within which readings of this highly problematical but central colonial treatise are constructed." Irish University Review, Spring/Summer

"The appearance of a new paperback edition of Ware's version of the Vewe, carefully prepared for a non-specialist audience by Andrew Hadfield and Willy Maley, is bound to raise the temperature of this debate. Mindful that other scholars might complain that Ware's text is corrupt, Hadfield and Maley have overcome this problem by including an appendix of those passages that were omitted from Spenser's text by Ware. This is arguably the most important part of their attractive and accessible little book, and it should guarantee that their edition will become a standard reference for academics as well as general readers. Ireland
"The introduction as a whole is a model of clarity, balance and compression which will admirably fulfil the editors aim of bringing Spenser's View to a far wider readership and they have provided also a critical guide to further reading which, both in its comprehensiveness and its detachment from the scholastic wranglings that have so often disfigured Spenser commentary, is exemplary." Irish Studies Review
* Provides the first ever student edition of this highly influential and, outside the library, otherwise unavailable text.
* Represents a key critical intervention in the public sphere by a major canonical Renaissance poet.
* Makes available a controversial and founding document in English colonial discourse.
* Introduces the student and provides key critical context.