A Voice of Our Own: Leading American Women Celebrate the Right to Vote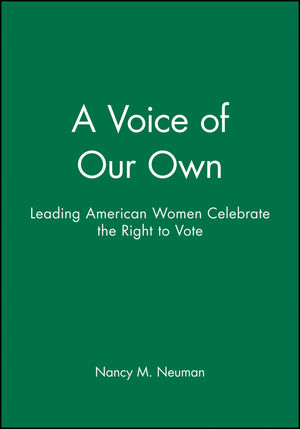 A Voice of Our Own: Leading American Women Celebrate the Right to Vote
ISBN: 978-0-470-63087-7 May 1996 Jossey-Bass 265 Pages
Description
Prominent activists, academics, politicians, journalists, mothers, and daughters celebrate the indomitable spirit of the American woman and reflect on what democracy means to women's lives.
Foreword.
Preface.
A Vote of Our Own.
My Vote, My Self (Mary Chapin Carpenter).
Impact (Gwen Ifill).
Finding America (Rebecca Walker).
Our Struggle for Full Citizenship.
Women Who Shaped the Constitution (Rosalynn Carter).
Lessons from the Women's Suffrage Movement (Lucinda Desha Robb).
The Politics of Sisterhood (Elisabeth Griffith).
The Women's Movement Across Generations (Sarah McClAndon).
American Democracy: A Puerto Rican Perspective (Sara E. MelAndez).
No More Sounds of Silence (Martina Navratilova).
Breaking the Barriers of Discrimination.
A Gift of the Spirit (Mary Adelia Rosamond McLeod).
Turning the World Rightside Up (Beverly J. Harvard).
Or You Can Get to Work (Ada E. Deer).
GAnder, Race, and Democracy (Diane C. Yu).
Family, Work, and Community.
Women, Work, and Family (Judy Woodruff).
Do What is Right (Esther Peterson).
My Life with the League of Women Voters (Anne Firor Scott).
Keepers of the Culture (Corinne C. "Lindy" Boggs).
My Democracy (Barbara Davis Blum).
Challenges and Change in One Woman's Life (Rosalynn Carter).
Our Collective Challenges.
Equal Opportunity for Recovery (Betty Ford).
Harvard Medicine in the Woman's Era (Bernadine P. Healy).
Our Collective Challenges (Donna Shalala).
Whose Nation is This? (Antonia Hernandez).
For the Next Generation.
A Call to Action (Hillary Rodham Clinton).
Entering the Twenty-First Century--On Our Own Terms (Wilma P. Mankiller).
Small Steps, Giant Leaps (Condoleezza Rice).
My Daughter's Generation (Maria Luisa Mercado).
Imagining the Real Future (Nancy Y. Bekavac).