A-Z of Qualitative Research in Nursing and Healthcare, 2nd Edition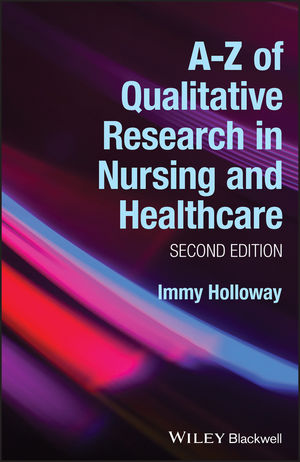 A-Z of Qualitative Research in Nursing and Healthcare, 2nd Edition
ISBN: 978-1-405-16121-3
Jul 2008, Wiley-Blackwell
272 pages
Description
The A-Z of Qualitative Research in Healthcare is a highly accessible text that provides healthcare researchers with quick access to the descriptions and explanations of the concepts, methods and processes used in qualitative research. The book offers a clear introduction to the topic, including an overview of qualitative research, its development and the methodological issues involved.


The main section of text is a comprehensive list of the terms and concepts used in qualitative research with a full description and explanation for each entry. The section is ordered alphabetically for quick and easy access to the information and cross references are included within the descriptions to enable the reader to follow a particular line of enquiry.


The Second Edition has been fully revised and updated and is now clearly focused on qualitative research as it applies to the healthcare sector. In addition each entry now includes a list of key texts to encourage the reader to take their research further.
Using the handbook

Key to highlighted terms

Qualitative research in health and health care

Alphabetical list of terms and concepts

Books and journals for qualitative researchers
"A-Z of Qualitative Research in Healthcare is a very valuable resource for anyone interested in or needing to know about qualitative research." (International Journal of Therapy and Rehabilitation, June 2009)


Presents clear, accessible definitions of the language of qualitative research


Contains alphabetically ordered entries for simple access to information


Offers a comprehensive range of terms, methods and concepts


Is an invaluable tool in writing your research proposal, report, dissertation or thesis


Provides suggestions of key books for further reading