ABC of Conflict and Disaster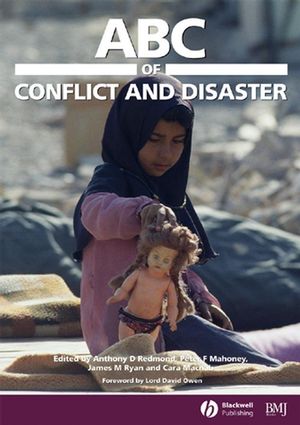 ABC of Conflict and Disaster
ISBN: 978-1-444-31287-4
Apr 2009, BMJ Books
80 pages
Description
This ABC introduces medicine in areas of conflict or natural disaster responding to the growing number of regions affected.

Chapters deal with subjects such as earthquakes and landslides as well as nuclear incidents and biological warfare both nationally and internationally.

It covers both logistical planning and medical aid as well as post-conflict recovery, offering psychological as well as medical and public health support.

It prepares aid workers for a range of roles in all possible situations.
1 Humanitarian assistance: standards, skills, training, and experience
.
Marion Birch, Simon Miller.
2 Natural disasters .
Anthony D Redmond.
3 Needs assessment of humanitarian crises .
Anthony D Redmond.
4 Public health in the aftermath of disasters .
Eric K Noji.
5 Military approach to medical planning in humanitarian operations .
Martin C M Bricknell, Tracey MacCormack.
6 Principles of war surgery .
Steve J Mannion, Eddie Chaloner.
7 The special needs of children and women .
John Seaman, Sarah Maguire.
8 Displaced populations and long term humanitarian assistance .
Maria Kett.
9 Psychological aspects of providing medical humanitarian aid .
Ian Palmer.
10 Conflict recovery and intervening in hospitals .
James M Ryan, Peter F Mahoney, Cara Macnab.
11 Approaches to conflict resolution .
Ewan W Anderson.
12 Weapons of mass destruction – threats and responses .
Christine Gosden, Derek Gardener.
Index
"...an easy to read and interesting basic text that offers readers signposts to many relevant websites and references...One of the greatest strengths of the ABC of Conflict and Disaster is the attention it pays to the psychological aspects of disaster and conflict recovery, an often overlooked aspect of humanitarian relief work. The use of interesting and varied colour photographs throughout the book also illustrates the horrors and reality of this specialist area."
Emergency Nurse, May 2006
The famous ABC series, as serialised in the BMJ
· Introducing medicine in areas of conflict or natural disaster

· A timely title, which responds to the growing number of regions affected

· Chapters deal with subjects such as earthquakes and landslides as well as nuclear incidents and biological warfare both nationally and internationally

· It covers both logistical planning and medical aid as well as post-conflict recovery, offering psychological as well as medical and public health support