ABC of Preterm Birth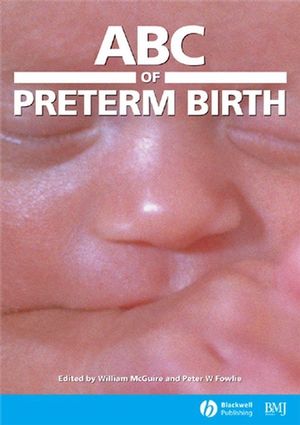 ABC of Preterm Birth
ISBN: 978-1-444-31294-2 April 2009 BMJ Books 56 Pages
Description
Preterm birth is a major challenge in perinatal health care. Most perinatal deaths occur in preterm infants, and preterm birth is an important risk factor for neurological damage, including cerebral palsy. This ABC covers all the latest information on this complex and multidisciplinary area from obstetric issues to immediate care of preterm infants, respiratory complications, and how to provide support to the parents and relatives of the preterm infant.

With its clear explanation and many illustrations, general practitioners, medical students, paediatricians starting their postgraduate training, nurses, and midwives will find ABC of Preterm Birth an excellent reference.
1 Epidemiology of preterm birth.
2 Organisation and delivery of perinatal services.
3 Obstetric issues in preterm birth.
4 Immediate care of the preterm infant.
5 Moving the preterm infant.
6 Respiratory complications after preterm birth.
7 Care in the early newborn period.
8 Feeding the preterm infant.
9 Infection in the preterm infant.
10 Supporting parents in the neonatal unit.
11 Neurodevelopmental outcomes after preterm birth.
12 Evidence based care.


Written to focus on the changing management of pre-term care

Covers obstetric issues, immediate care of preterm infants, respiratory complications, and how to provide support to the parents and relatives of the preterm infant

Looks at ante-natal treatments and interventions, to the resuscitation and stabilisation of complications for the pre-term infant

Provides detailed information on nutrition and parental support issues

Various pre-term diagnoses are covered and recent research development and improvements are discussed from an international perspective, including issues in the developing world